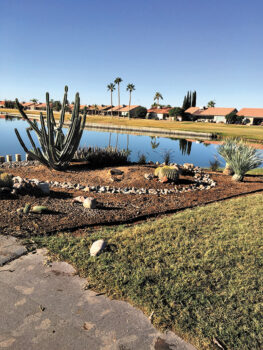 Laurie Doyle
The Garden Club will host its second meeting of the year on Friday, Dec. 13, at 9 a.m. in the ballroom with a Holiday Brunch. All members and guests are welcome to join in the festivities; there is a $10 cost for the brunch. Contact Julie Anderson if you have not already signed up. A PowerPoint presentation will be given by Garden Club members Laurie Doyle and Shelly Seel outlining the activities of the Garden Club and a historical picture of the many projects that the Garden Club has completed in SunBird.
The SunBird Garden Club has been in existence since 2001 and has been instrumental in creating garden spaces around the clubhouse and along Championship, Waterview, SunBird Blvd., and several golf course holes. The Garden Club has worked hand-in-hand with both the HOA and golf course in providing curb appeal and landscaping. The PowerPoint is available for any organization or club that wishes to view the many projects.
The Garden Club will once again host the Home and Garden Tour March 15, 2020. This year's tour will be named the "Edie Hamilton Memorial Home and Garden Tour" in honor of Edie's many years as an active Garden Club member helping to select the homes for the tour and serving five years as treasurer. Edie passed away in October and will be greatly missed by all who knew her.