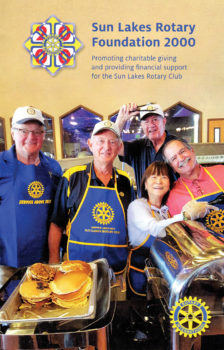 Norm Noble
Rotary's theme of "Service above Self" is the driving force behind the Sun Lakes Rotary men and women members, many of whom are former business, civic and professional leaders, now retired. The primary charitable thrust of this club is education, primarily in the Chandler Unified School District. Club members spend hundreds of hours each year mentoring and leading children from third grade through high school in the choices they make – choices that will affect them throughout adulthood.
The Sun Lakes Rotary Foundation 2000 is the philanthropic arm of the Sun Lakes Rotary Club. The mission of the foundation is to promote charitable giving and to provide support for important community-based projects and programs as well as numerou.ital international programs. For example, in our community, the Sun Lakes Rotary Foundation 2000 provides grants and support for programs such as Neighbors Who Care; high school student scholarships; providing a personal dictionary to every CUSD third grader to help them become better spellers, readers and learners; outstanding teacher and student awards; Matthew's Crossings Food Bank; Choices training for all ninth graders in the Chandler Unified School District; the Sheriff's Posse; the Perfect Place; the Sky Harbor Airport Military Hospitality Room; United Food Bank of Arizona and Gift of Life-Arizona. Internationally, the foundation is involved with a project called PolioPlus® which serves to eradicate polio worldwide. Since the inception of this campaign, the Sun Lakes Rotary Club has donated over $100,000 to stamp out this dreaded disease. We've sent shelter boxes to Haiti and Nepal and wheelchairs around the world. We also promote development of safe water wells in the developing communities of our world.
Donations to the Sun Lakes Rotary Foundation 2000 are tax deductible. We urge your consideration of being a participant. The Foundation is a 501(c)(3) tax-exempt foundation. You can designate your donation to the Endowment Fund for Charity and Education, or the 5-10 Year Fund where the funds will be spent over a 5- to 10-year period for immediate impact. If you should have any questions about The Sun Lakes Rotary Foundation 2000 and how you can participate, please contact Foundation 2000 Board President Gary Whiting at 602-369-8677, or mail your gift to the foundation at 4980 S. Alma School Road, Suite A-2, #419, Chandler, AZ 85248. Also, if you are interested in becoming a member of The Sun Lakes Rotary Club, please contact Charles Loew at 602-721-3680.
Our club was founded in 1986, starting with 22 members. Today, we have approximately 85 members. We meet weekly in the Oakwood Country Club Grand Ballroom on Tuesday mornings; breakfast at 6:30 a.m.; meetings between 7:00 and 8:00 a.m. Guests are always welcome! Call Charles to be our guest for a meeting. Pleas.isit our website, www.sunlakesrotary.com, and also see our Facebook page.