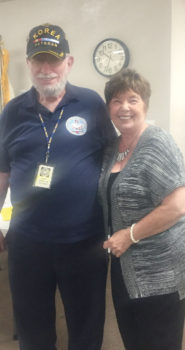 Stacy Sweet
The R Countryman Chapter of the Korean War/Korea Service Veterans will not be having our normal monthly meeting in December. Instead, we will be having our member luncheon and election of officers on December 12. RSVP by December 5 if you wish to join us!
A special thanks to our October speaker, Judy Waltersdorf from The Perfect Place at Risen Savior Lutheran Church. She brought exciting news about new programs they have to offer here in Sun Lakes and reminded us again of the incredible support they provide TO ou.eterans and how they benefit from the support they receive FROM ou.eterans.
AL.eterans and their guests are welcome. You can learn more about us on our website at www.kwvacc.org or contact Leon Johnson, Commander, at 970-481-3005.
And remember, "Freedom is NOT free..