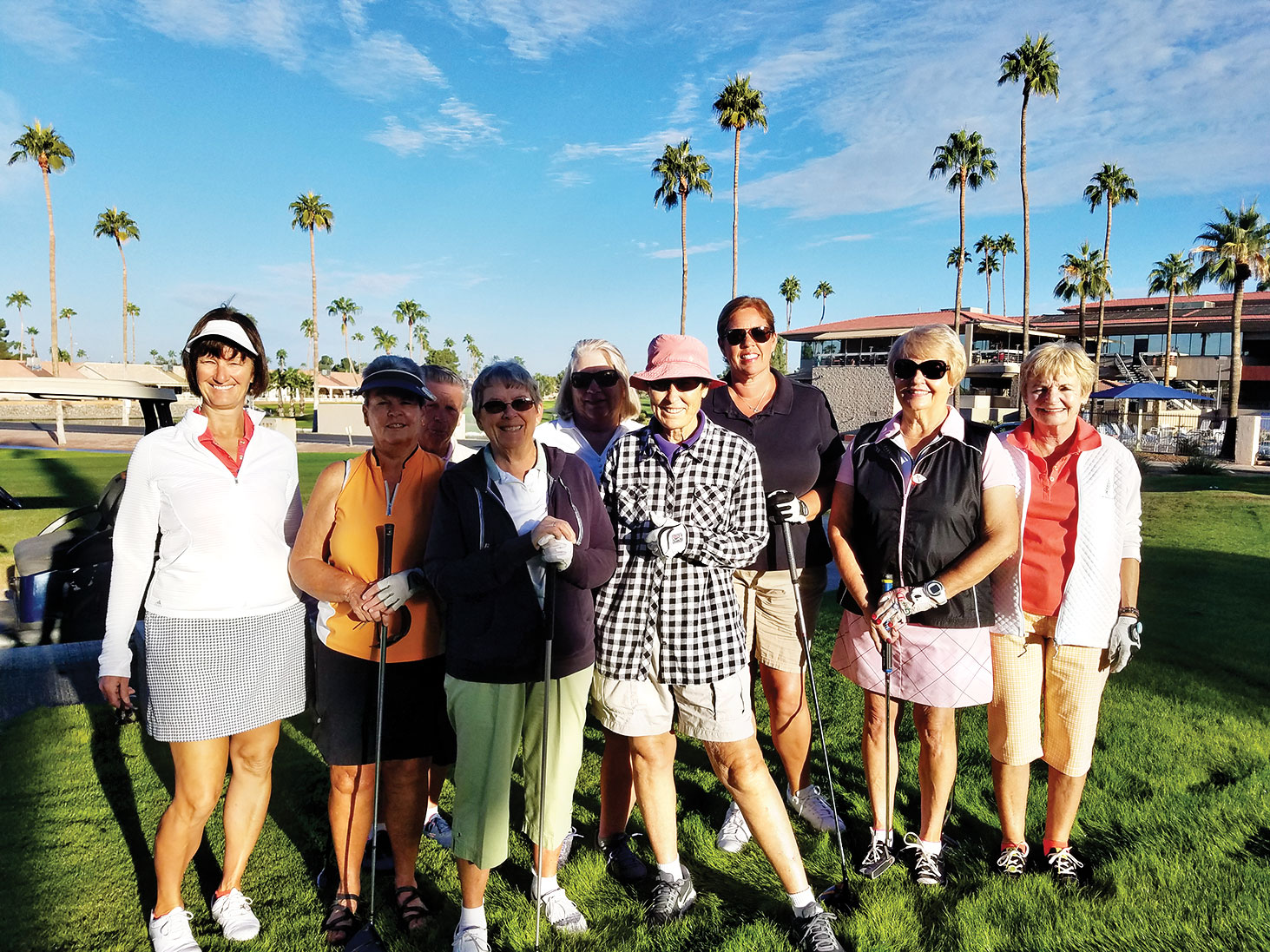 Tammy Bachofner
The Lady 18ers are back and started our season off by "dancing on the course." Our first game of the season was the Cha-Cha. Please check the board to see which teams managed to have the fanciest footwork with this fun game. During the month of December, we will be playing Mutt and Jeff and Aces Wild. No worries if you do not know what the rules of each game are; we provid.ery clear instructions with your score card each week … so just come have fun.
Following our first tee time of the season was our monthly, arranged by Margaret McCathern, Karen Gilmore and Cindy Vig. Thank you to everyone who was able to participate, and .ery special welcome to our new member Dolly White. If you see her, please give her a warm welcome to our group, and don't forget, we are always looking for new members, so invite your friends!
I also want to take a moment to congratulate two players on their holes-in-one during last season and during our "off season play." Sam Bastin and Pat Arnold, congratulations to both of you for your amazing skill! A friendly reminder to everyone – if you get a hole-in-one during "ladies play" at SunBird, please be sure to notify Cindy Vig.
Our lunch meetings are the first Tuesday of each month following our golf game.
Also, please take a look at your "golf guide" handed out during our meeting. If you did not receive one, please let me know. A HUGE thank you goes to Cindy and Karen for creating and assembling our books again this year! You gals ROCK! If you are interested in taking this project over, please contact Cindy. Our guide has a full calendar of games each week as well as special events, tournaments and shoot-outs. This month, I was asked to highlight our shoot-outs. If you have not participated in a shoot-out yet, please give it serious consideration. It is a great way to meet new people and gain confidence. All shoot-outs cost $3, which goes towards prizes, and then $5 to the pro shop day of play.
Upcoming shoot-outs include:
December 10, Ladies Net Shoot Out
January 4, Couples Net Shoot-Out (Qualifying, if needed, will be January 9.)
February 11, Ladies Gross Shoot-Out
March 4, Couples Gross (Qualifying, if needed, will be February 27.)
We all look forward to seeing you on the course.
PS: If you have anything you would like highlighted in our news article, please contact me, Tammy Bachofner. My contact information is in our golf guide.
Until next time – Hit 'em long and straight but, most of all, have fun.