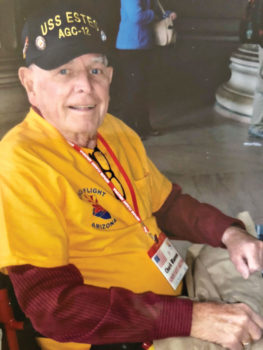 Jackie Cox
Except for his warm, welcoming smile, one might not notice "Mr. SunBird" while visiting SunBird Community Church, or the annual Rummage Sale. But you'll be impressed by the many people cooperatively working together, effective sound system, beautiful entry and ballroom and overall success – and a volunteer who quietly organizes it all.
His leadership at SunBird is a continuation of leadership as a U.S. veteran, as an employee of Folgers/Proctor & Gamble for 32 years and as Dad in a happy family. He has had a rich life, and his retirement for 27 years in the SunBird community has brought much to others.
HOA Manager Layne Varney says, "Chuck has raised nearly $100,000 for SunBird, over $50,000 from rummage sales donated to the community, additional funds ($12,000) for choir risers, ($12,000) sound equipment, ($8,000) for stage expansion and many other various needed projects."
"Not only is Chuck active promoting and raising funds… he is 120% physically involved with construction projections," says Layne. "I have met thousands… at our resort and not met anyone more dedicated, thoughtful, kind and service minded." Chuck once quietly said, "I'd rather be a hammer than a nail."
The early years: Chuck remembers the early days when SunBird transitioned from management under Robson, with a $50,000 debt, and people lined up one day a week to express concerns that mostly fell on deaf ears. Then Layne, just 28, was hired as manager. Working together with a strong staff and many volunteers, the community has become financially strong, enlarged, and its appearance has blossomed. He leads by example.
Three years ago, the pool area was replaced and enlarged, funded mostly by HOA capital improvement funds. Chuck, an HOA Board member for nine years, made the first donation with a $1,000 pledge. Nine years ago, he led fundraising for risers in the clubhouse ballroom to be used for musical events. His $100 was the first of over 100 donations. This summer, he focused on the clubhouse expansion. This October, he began the annual Rummage Sale efforts by gathering donations into his double garage, reviewing his list of over 25 volunteers and scheduling about 75 pickups from homes by Joe Anderson's grounds crew. The two-day event will again fill the clubhouse ballroom and back parking lot with donations that are sold and given to the HOA for improvements. Chuck would rather credit Ralph and Helen Goheen and many others too numerous to list.
The golf course, expanded to 18 holes after purchase of land from Kirby Farms, has been important to SunBird and to Chuck. He is a golf club owner. His son Garth says, "We've golfed 40 to 50 rounds that you've paid for… and you have beat me every single round." As he looks off his back patio onto the 7th tee, he noticed the palm trees needed the bark removed. Done. Looks good now… but family and country came first! Chuck and his wife Carol, now deceased, raised their daughter and two boys, a family which includes eight grandkids and two great grandkids. He worked for Folgers in Washington State, and the kids were "mountain grown." Today, they visit at SunBird, and as his son Garth says, continue the "steaks, salami sticks, gallons of orange juice, bacon… blessing us at every junction."
Like others at SunBird who meet him would say, Garth says Chuck is "the most positive, generous, encouraging person I have ever met… you provided a warm, safe, stable home… filled with love and direction." Garth used these words in a letter Chuck received during their three-day Honor Flight to Washington, D.C., last April, a special time that widens his smile. They visited the War Memorials and Changing of the Guard at the Tomb of the Unknown Soldier.
Chuck's hat, worn on the flight, shows his pride in serving his country in the Navy on the U.S. Estes from 1951-1955 in the Pacific as coxman, steering the boat. About 10 Honor Flights are offered in Arizona out of Phoenix and Tucson to American troops who served in World War II and Korean conflicts from December 7, 1941, to December 31, 1946, and June 25, 1950, to January 31, 1955. Sponsored by Southwest Airlines, requiring a guardian for each veteran, the flights are "in gratitude for your sacrifices and achievements."
November 11, 1918, 11:00, 100 years ago, the Armistice was signed with Germany. It was the end of "The War to End All Wars." We know it didn't end all wars, but let us celebrate the 100 year anniversary, our veterans and our freedom.