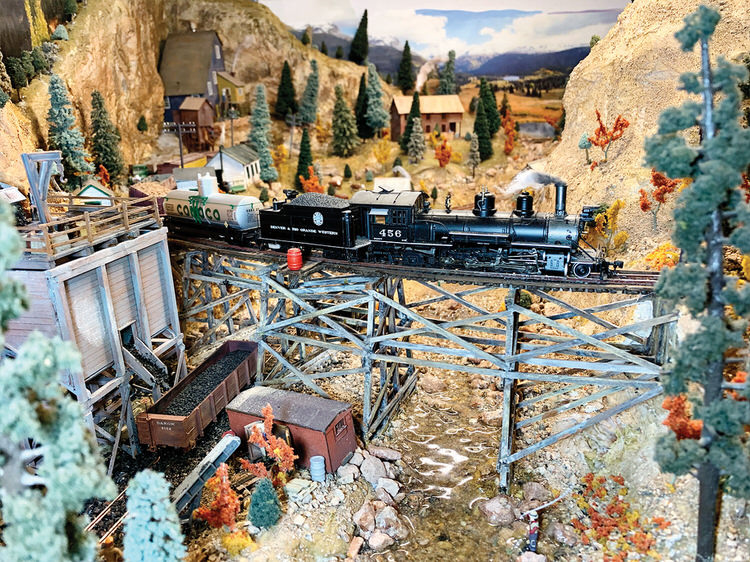 Harry Huckemeyer
The Short Line Model Railroad Club welcomes all who have followed our activities and events over the years, and we are looking forward to a busy agenda that will be leading us all to an exciting and challenging time during this new year. For starters, not too far from the Sun Lakes area you will find the Arizona Railroad Museum located in Chandler, slightly off Ryan Road and Arizona Avenue. You might want to mark your calendar for this, as on Feb. 26 the museum will be celebrating "Arizona Railway Day," which is a special event and offers you the opportunity to walk through many areas that contain a variety of railroad cars of the past, privately-owned railroad cars where you may even be able to visit with their owners, and much more. Our club will be participating there, which we do annually at these events, and anticipates having a layout in one of the dedicated areas that will run a dual layout in as large an area as the location given to us allows. Admission for all this upcoming event is free, as is parking, but plan ahead, as large attendance is always anticipated, and parking may be hard to find. Currently, the Railroad Museum is open on weekends, and hours can be found on their website, which is listed below.
For those hobby enthusiasts who are looking for more, plans are in place to have one of the boxcars located at the museum mentioned above open to the public on the third Saturday of each month. In this boxcar you will be able to talk to a group of volunteers who will be available to answer any questions regarding the layouts that are all operational in the special boxcar, with the contents being an operating Lionel train set, a smaller running layout dedicated to "HO" scale model trains, and last but not least, two complete operating "N" scale layouts. For additional information regarding operating hours of the Arizona Railroad Museum and a brief listing of some of the cars that are typically open for viewing, you can go online at www.azrymuseum.org or call 480-821-1108.
The Short Line Model Railroad Club meets on the first Saturday of the month from September through May. Meetings are held in the Lakeview Room, located at the SunBird Community Center on the first level at the SunBird Golf Resort. Meetings start at 9:30 a.m., and at times, we do have work sessions off-site as required to ensure readiness for future upcoming events. Due to changes in the Model Railroad World over the years, we do encourage hands-on participation with our club members and have the capability to move to locations outside the area to join up with others in other major events around the Valley.
If you are a fan of model railroading or just thinking of getting involved, you may have an interest in attending a few of the frequent train-only swap meets that are available on a pretty regular basis around the Valley. There's usually a small charge for admission, but for those with the interest, it's an enjoyable way to spend an hour or two and possibly walk away with something you can't live without. If interested in that area, you can text me at 480-600-1349 and indicate your interest in model railroad train swap meets, and I'll pass on whatever information I have available to me at the time. For beginners, it's an ideal way to plan out your needs and maybe satisfy your wish list at a reasonable cost. For any other information regarding our club, you can reach us at 480-802-4976 or by email at [email protected] Have a great day and a healthy, safe new year.