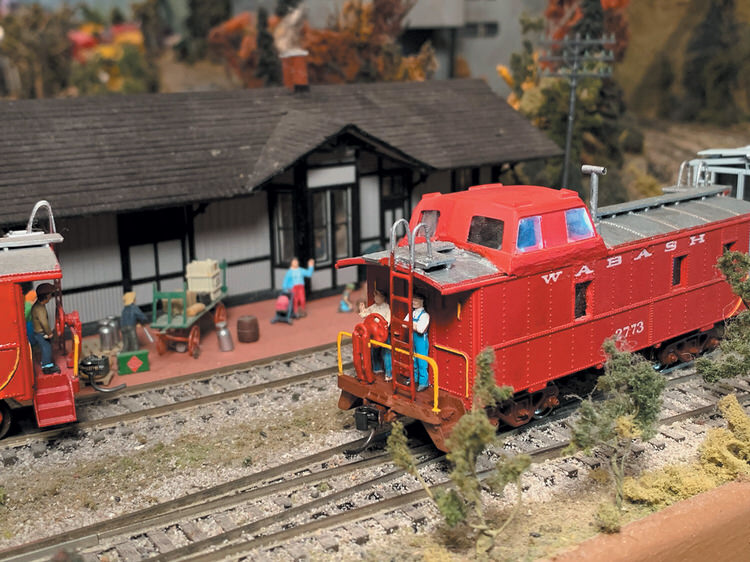 Harry Huckemeyer
The Short Line Model Railroad Club always welcomes all who have followed our activities and events over the years, and we are looking forward to a busy agenda that will be leading us all to an exciting and challenging time during this new year. It's a little early in the planning stages, but as we rapidly move into the new year, things are starting to fall into place.
For starters, mark down this date on your calendar. Once again, the Arizona Railroad Museum located at 330 E. Ryan Road will be celebrating Railway Day. The date is Feb. 25, and the museum will be open to the public for your enjoyment from 9 a.m. until it closes at 4 p.m. There will be much to see, and you can expect large crowds, so plan on arriving early. Several model railroad clubs can be seen around the area and, in some cases, located within the cars, which provides a sampling of what those who were traveling in earlier times, or had family employed in these giants of the past, are now carrying in their hearts. It's all free, with free parking, and refreshments are available in the area to complete a fun day out that's really close by. Normally, the museum is only open on weekends. On the third Saturday of the month, a boxcar on the premises, which is open to the public and supported by volunteers, contains an assortment of operating model railroad layouts of several different sizes, which goes over well for the young at heart.
For those hobby enthusiasts who are looking for more, plans are in place to have one of the boxcars located at the museum mentioned above open to the public on the third Saturday of each month. In this boxcar, you will be able to talk to a group of volunteers who will be available to answer any questions regarding the layouts that are all operational in this special boxcar, with the contents being an operating Lionel train set, a smaller running layout dedicated to "HO" scale model trains, and last, but not least, two complete operating "N" scale layouts. For additional information regarding operating hours of the Arizona Railroad Museum and a brief listing of some of the cars that are typically open for viewing, you can go online to www.azrymuseum.org or call 480-821-1108.
The Short Line Model Railroad Club meets on the first Saturday of the month from September through May. Meetings are held in the Lakeview Room at the SunBird Community Center on the first level at the SunBird Golf Resort. Meetings start at 9:30 a.m. If you have an interest in model railroading, now is a great opportunity to check things out with us. Feel free to join us at one of our meetings, but it is advisable to give us a quick call. At times, we do have a conflict with the timing of an event, and things like that can affect our meeting dates. One of our new benefits we currently have is that on one Saturday of the month we do have available in Oakwood, space where we can stage our layouts as required and also offer space for our club members to work on their projects.
If you are a fan of model railroading or just thinking of getting involved, you may have an interest in attending a few of the frequent train-only swap meets that are available on a pretty regular basis around the Valley. It's an enjoyable way to spend an hour or two and possibly walk away with something you can't live without. If interested in any of the above, you can text me at 480-600-1349 and indicate your interest. For any other information regarding our club, you can reach us at 480-802-4976 or [email protected]
Have a great day and a healthy, safe new year!