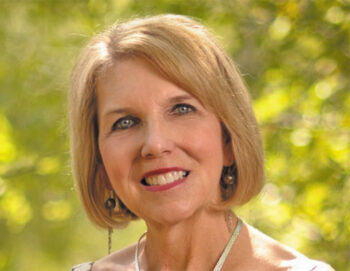 Susan Reynhout, publicity chairman
You can take part in a wonderful way to connect with friends and neighbors at this special time of the year by enjoying a delicious full breakfast buffet, holiday music, and an inspirational message especially planned for the holidays. A festive air will fill the Kingston Ballroom of the Oakwood Country Club of Sun Lakes on Thursday, Dec. 12, at 9 a.m. Invite your girlfriends to join you to celebrate at an event planned just for you.
A Christmas montage is the theme of the musical program of the morning, which will include songs and a bit of drama from many of your favorite carols and holiday songs, with the Keyboard Connection as the accompaniment orchestra. Soloists who will be featured are Katherine (KT) Todd, Jan Libby, and Lily Whitson, and the Sun Catchers quartet will be providing holiday music, strolling from table to table.
Marlene Buechel, from Sun City, is a family counselor, greeting card business owner, and lover of chihuahuas. She holds a master's degree in Community and Family Counseling and has spent all of her career in a helping capacity. Her experience includes counseling, teaching, and serving as a hospice chaplain. She is the author of the book Miracles & Messages. Marlene is an inspirational, compassionate, and dynamic keynote speaker for Women's Conferences and Retreats. She will motivate, encourage, and give hope to you as she asks the question, "Got Passion."
Reservations are necessary and must be made by Thursday, Dec. 5, by noon by emailing Carla at wcsunlakes@hotmail.com or calling Nancy at 480-370-2553 or Ann at 614-370-2553. Cost is $20.00. Pay at the door. Deadline for cancellations is Monday, Dec. 9, by 10 a.m. by calling Cindi at 515-770-7974. Reservations that are not honored may require payment. Please honor your reservation with payment or give as a gift. Please note that the cost includes brunch, venue expenses, taxes, gratuity, speaker's expenses, publicity, and miscellaneous fees. Affiliated with Stonecroft – Where She Is. As She Is. Stonecroft.org.