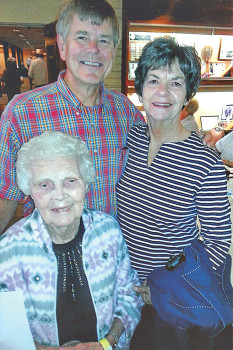 Lion Dick Zierman, Assistant Floor Manager
Never too old to have a good time with your family; Helen Perkins, 95 years old, along with her son Steve and his wife Marianne attended the Sun Lakes Lions Club Casino Night, Saturday January 24 at the Sun Lakes Country Club. Helen played Black Jack and walked away with a hand full of chips and a giant smile, saying she would see us again next year. We sure look forward to her return.
Clair Duby, a member of the Sun Lakes Breakfast Lions Club, was standing in the lobby of the Country Club with some friends and was complaining about the fact she couldn't find a Black Jack table to play at. One of the Lions Club floor managers overheard her complaint and stepped in to help her out. After a short conversation, Clair volunteered to sit at one of the empty tables and deal. In a conversation with Clair she disclosed that she was battling third stage breast cancer and had been for some time. When the floor manager checked with Clair to see how she was doing she said, "Great." The table players were having a good time, and all said Clair was fun to play with. At the end of the evening Clair was asked if she enjoyed herself and if she would be back next year to deal? Clair smiled and said, "You bet." We look forward to seeing her next year.