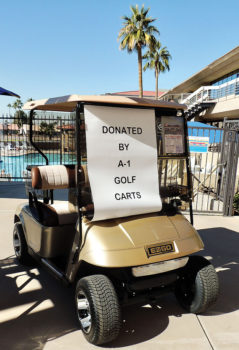 The largest fundraiser benefitting SunBird Golf Course took place on November 16 with auctioneer Dave White.
Under the direction of Marsha and John Brockish and with the help of many volunteers, this year's event raised over $12,000.
Thank you to our major benefactors: A-1 Golf Carts for a reconditioned golf cart and the Hock family for Waste Management Tournament tickets. Ray and Shirley Bierowicz donated their golf cart, and the Whistlers offered a gourmet West Coast meal. Many individuals and local businesses donated auction goods and services. Thank you to the competitive bidders who upped the ante for treasured items. The highest demand was for homemade, one-of-a-kind pies and cakes that pushed bids to more than $50.00.
All revenue from the auction and the CRAB Golf Tournament go to capital purchases for the golf course. This year's revenue will be applied to the purchase of an aerator valued at $16,710 which will maintain greens and tee boxes in top condition.
Once again, the SunBird community showed we are a winning team!