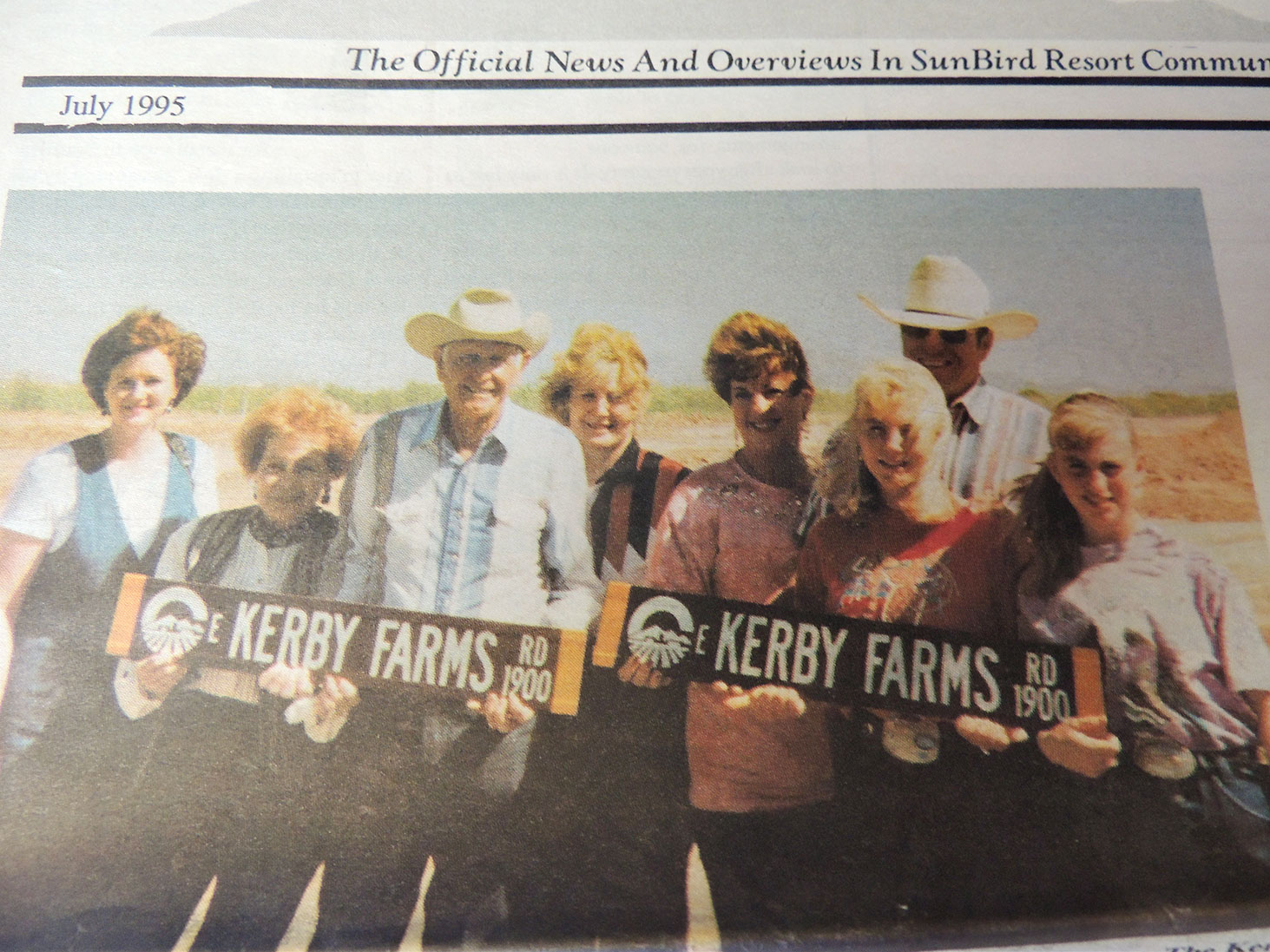 Herb Clark, Associate Editor – SunBird Views, 1995
Most of the streets in the SunBird Resort Community are named after famous country clubs and golf courses throughout the United States. There are a few exceptions like Tournament Drive, Waterview Drive and Championship Lane.
And now, in Unit 10, the newest part of our community you will locate a new exception to the street names when you drive or walk past Kerby Farms Road – between Oakmont and Coral Gables.
Where Kerby Farms Road is now located at one time stood an 80-acre farm. Reed Kerby, head of the Kerby clan, sold the tract to Robson Communities in 1990 after working the land with his family for 27 years.
Kerby, a native Arizonian, is still farming in the area with his son Rick. "We had a farmhouse and several other buildings on this site," Reed Kerby said as he and his family looked over the area where new SunBird Premier Homes will be built. "Our farm grew cotton, corn and hay, and we had a fruit orchard on the land," Kerby recalled. "We also had horses and other farm animals on the property. It was our family homestead," Kerby said.
Kerby, whose family still resides in the Chandler/Gilbert area said, "It seemed appropriate to sell the land so that the SunBird layout would be completed."
In addition to Reed and his wife Julia, the Kerby family includes son Rick; his wife Karen and daughters Kamie and Sherre, students at Gilbert High; daughter Karin-Riggs and her daughter Ginger Riggs.
Kerby has been back to SunBird several times since selling the farm, watching the growth of the community. He still has land and farms in the neighboring areas.
"One thing I want to mention," Kerby remarked, "is how good it was to do business with Ed Robson."
While the SunBird street signs are in place and building is progressing on Kerby Farms Road, the Kerby family was presented with duplicate signs, and Reed Kerby with family were delighted with the presentation.