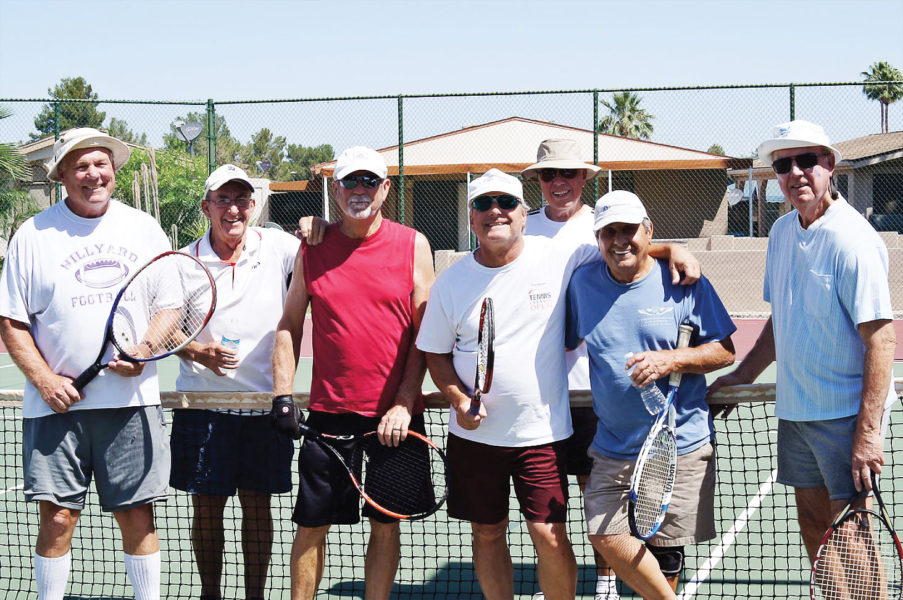 Another long, hot summer at the tennis courts certainly did not deter those die-hard tennis players. The men played round robin tennis on Tuesday and Friday. And the ladies continued to pay tribute to Ray White, playing all summer long in the Riggs Road League which Ray started. The league will finish up the middle of September, so winners won't be announced until the November issue. A great big thank you to Toni Reider who spearheaded this league for the past two years. Next summer, two of our courts are being redone, so we will be looking for a different venue to play.
This fall, the SunBird Tennis Club will continue with its free six-week Beginner program with Gary "Rusty" York, our teaching professional. If you want to learn the basics of the game, the mechanics of racket handling and proper footwork, etc., or if you haven't played in a while and want to get back into the game and work on your strokes, please email Charlotte Wiard, Tennis Club President, at [email protected] You will be contacted by Coach Holly Benson who runs this program. Exact dates to be finalized when Rusty returns to Arizona.
Our 2018/2019 calendar of tournaments begins in late October through the end of March. We invite you to come out and cheer on your neighbors as we compete against neighboring tennis clubs. Our schedule is as follows, along with picnics and holiday party:
10/27. Cottonwood vs. SunBird Tennis Club
11/03. Robson Ranch vs. SunBird Tennis Club
11/17. SunBird Welcome Back Picnic
12/01. Trilogy vs. SunBird Tennis Club
12/07. USTA Sectional. Unavailable to SunBird Tennis Club
12/15. Springfield/SunBird vs. Cottonwood Tennis Club
12/15. SunBird Christmas Party
1/05. SunBird vs. Sun Lakes Country Club
1/26. Springfield/Sun Lakes vs. SunBird
2/02. SunBird Trilogy
2/09. Sun Lakes Country Club vs. SunBird
3/02. SunBird vs. Springfield
3/05. SunBird vs. Palm Creek
3/24. SunBird Year-End Picnic
The Tennis Club will have its first Board meeting on October 2 where we will discuss our fall programs. If you have moved into the SunBird community and would like to make new friends, play competitive tennis and get some exercise, come join us in the Lakeview Room at 5:00 p.m. If you don't get this newspaper in time, contact Charlotte at the email address above.
If you have just moved into SunBird and are more inclined to play other sports, there are plenty of activities. Contact the HOA office. Stay healthy!