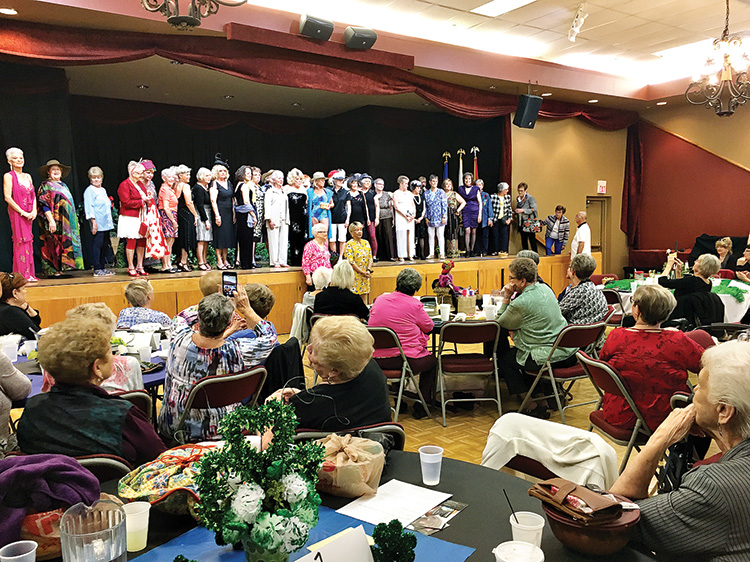 Barb Dunbar
Wow! The Second Hand Rose Style Show entertained over 250 ladies on Jan. 31, 2020! This event raised over $2,000 for Boots in the House, a non-profit agency here in the Valley! Boots in the House does a variety of packages and sends them to our troops in remote and hostile areas. Jamie and Greg Sistek displayed two of their gift boxes and explained the organization's efforts have shipped over 4,000 boxes in the last five years. A huge shout-out to Emily Hughes and all the Kare Bears volunteers in making this event so successful. All guests brought a salad and made individual donations to Boots in the House! We had 50 models and all wore recycled clothing from the various consignment/thrift stores in our area. We had gifts for the top three models and trophies for the best-decorated tables from various clubs in our resort! Emily described what the models were wearing and what the total outfit cost. Our models were very creative and did a wonderful job displaying their clothing.
The SunBird Kare Bears have done five memorials so far this year and have three more in the near future. The memorial notices are now on top of the cabinet in the Billiard Room.
Our major fundraiser, the Chance Tinder Presley Project, was held on Feb. 18. The evening show sold out in five days, so we want to thank our residents who purchased tickets.
Our last Kare Bear Fair will be held on Saturday, March 7, from 8 a.m. to noon. Come see all the wonderful items the various vendors provide. You can also enjoy visiting with your friends at the donuts/hot chocolate/coffee tables!
Our next meeting is Wednesday, March 18, at 1 p.m. in the east end of the ballroom. We are still wanting more members, so it's never too late to join our wonderful organization.
Our Appreciation Luncheon will be held at noon on March 25.