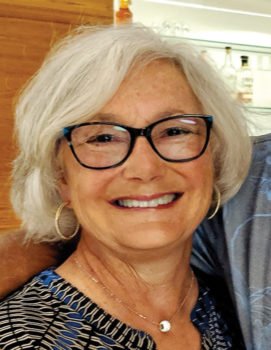 Phyllis Prysock
Join us on Wednesday, March 11, at 1 p.m. for our next meeting and program presented by Nancy Kirk. Nancy is a fiber artist who enjoys combining techniques and fibers into one piece of artwork. Most of Nancy's pieces reflect the natural desert environment that surrounds her. Nancy has studied with many fiber artists in Lake Tahoe, San Diego, Colorado, Scottsdale, and London, England. She has designed patterns, exhibited her artwork locally, and won several awards and has taught numerous classes on thread painting, textile art, and purse making. Sew-N-Sews were fortunate to have Nancy teach a class last year. Members learned new techniques and completed a wonderful vase. Join us for what promises to be a fun and informative program.
We want to thank Jan Maresh for the wonderful program she presented in February. Jan is the author of several books, including Sewing for Dummies and Home Staging for Dummies. She was a wealth of information and ideas.
Sew-N-Sews members are a very creative group whose interests range from everything sewing related involving fabric, needles and thread, yarn, and even fishing line and wire! When you join our group, you have access to classes that range from purses and bags to jackets, beaded jewelry, table runners, and more. Our Special Interest Groups (SIGS) include three charity groups: Pads4Paws, Dolly Dressers & More, and Walker Bags for Veterans. We also have SIGs that bead, embroider, those who love their Featherweight machines, and our Stitch & Chat group that does all types of handwork, including knitting and crocheting.
We welcome guests to attend two meetings before joining. The new member fee is $25 and includes a name badge. Member benefits include access to our stash table, classes, and use of the Sewing Room when it is available to Sew-N-Sews. Wearing your name badge to our monthly meetings qualifies you for a raffle ticket for door prize drawings. Many members received fabulous door prizes recently, compliments of longtime member Dorrie Meehan. Thank you, Dorrie.
We meet on the second Wednesday of each month in the Navajo Room of Sun Lakes Country Club, 25601 N. Sun Lakes Blvd. Our business meeting starts at 1 p.m., and we invite you to come early and check out the class offerings.
For more information, you may contact our co-president, Cathy Climp, at 303-356-9778 or email us at [email protected]