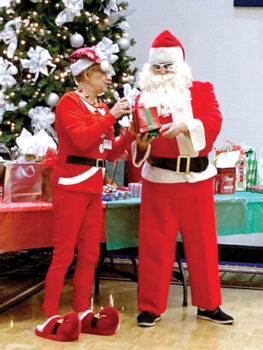 SunBird Kare Bears have now accomplished three meetings, two fairs, and a holiday luncheon. Santa Claus attended our holiday luncheon and was given gifts of love and charity from our own little elf, President Karen Volk. Members exchanged some lovely gifts and enjoyed a luncheon meal from the Horizon Room.
Future events include the Second Hand Rose Fashion Show on Jan. 27 in the ballroom. Jill Ponce, as chair, has reached out to Kare Bear members and members of our community to participate as models. The models find their outfits at a local thrift store and save the receipts to be included with the description of their garments. The cost to attend this event is $10, and tickets will be sold in the SunBird lobby. Each guest at a table will bring a one-and-a-quarter size bowl of salad (salad, hot dish, or dessert, their choice). This event has had two previous successes in our community, so we look forward to a grand attendance and thorough enjoyment by our attendees.
Another important event is the Eagles concert sponsored by the SunBird Kare Bears on Tuesday, Feb. 21, 2023, through TAD Management. Ticket purchase is available now online. Drinks will be available for purchase. You may bring snacks in unopened packages. There will be a cash raffle. The Eagles established in the '70s and first recorded with Linda Ronstadt! Moving on to record their own songs, you will find familiar "Hotel California," "Take It to the Limit," "Heartache Tonight," "Desperado," and "Lying Eyes." In 1998, they were inducted into the Rock and Roll Hall of Fame. You don't want to miss this wonderful concert!
Two more Kare Bear Fairs occur the first Saturday in February and March. Thanks for your support!