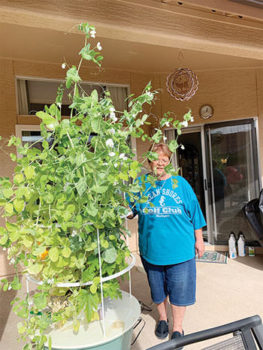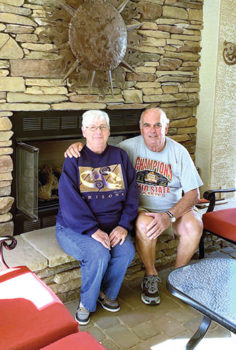 Tickets are now on sale at the HOA office for our annual House and Garden Tour for $10 each. The tour will be held on Sunday, March 10, from 2:00 to 4:00 p.m. Everyone is invited to join in a fun afternoon of visiting homes and gardens of SunBird residents. A variety of homes have been selected, and some have had unique upgrades during the past year.
On January 11, members were treated to a talk by Barb Dunbar on tower gardening. After the meeting, Barb invited us to her home to see her outdoor tower garden where she grows a variety of vegetables and salad greens.
Our February 8 meeting featured our annual Valentine Tea. Members bring a favorite tea cup and enjoy specialty teas and light refreshments at this annual event.
Sisters Barb Ott and Pat McGonegle will be demonstrating succulent garden planting at our March 8 meeting. A succulent is a plant with fleshy tissues designed to conserve moisture. These plants are perfect for our desert setting and are also very trendy today. Barb will also speak about caring for citrus trees, including proper watering and fertilizing. Our meeting will begin at 9:00 a.m. in the east ballroom. New members and guests are always welcome.
Our club assists in the beautification of our SunBird community, and we strive to learn and educate about desert gardening through programs and activities. We share the fun of planting and maintaining several of the gardens you see throughout SunBird. Please join us! We would love to get to know you and share the fun (and challenges) of desert gardening with you!