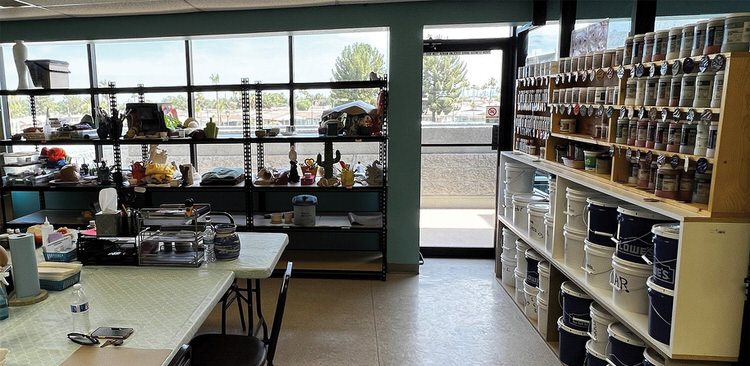 Deb Rollings and Mary Beth Kosiba
The Clay and Ceramic Room is busier than ever this summer. If you have not been up to see our special place, stop by during the week. Not only has it been refreshed with new paint and new shelving, we are offering basic classes in Beginning Clay and Glazing all summer. Remember 9th grade clay class? Now is your chance to go back in time and play in the mud again!
For the summer months, we have two basic classes to try, which include a Hand-Built Cup class and a Glazing class. By taking these classes, you will learn many clay basics and come out of it with a stoneware mug that you can drink from!
All are welcome to join our club! If interested, stop by, sign up for a class, and find out about our club rules, fees, and activities. We always have an instructor on duty to assist you, help with issues, and answer questions, every Tuesday from 9 a.m. until noon.
Not only can you create things with clay, you can paint ceramic greenware that you purchase already created. You can visit a place such as Country Ceramics in Queen Creek to buy pieces such as gnomes, turtles, dinnerware, holiday pieces, and much more. You can apply glazes to these or try a class in dry brushing.
Please remember that everyone who "works" in our ceramic studio is volunteering their time!
And, finally, a big thank you to all who were part of the updates in our studio. Many members put in hours of their time painting, organizing, cleaning, building, taping, etc., to make the studio welcoming and attractive.