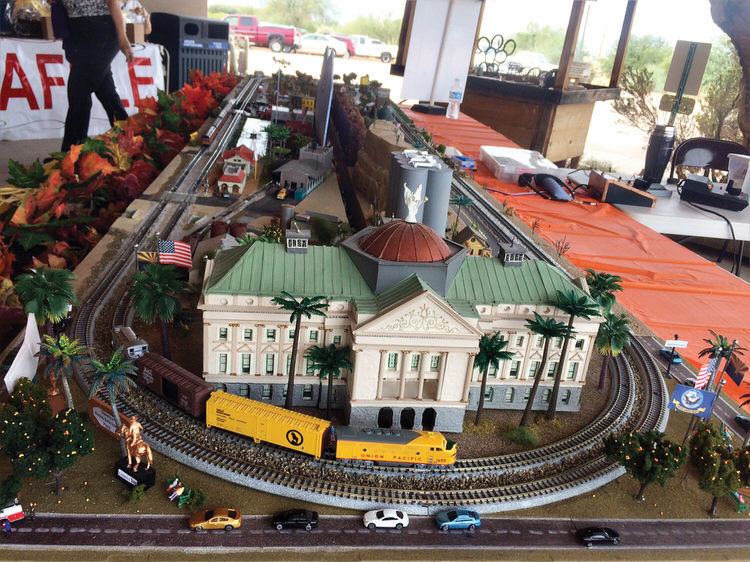 Harry Huckemeyer
The Short Line Model Railroad Club welcomes all our followers and wishes them an exciting, happy, healthy new year. For our club, January is a time for planning, and we're looking forward to an eventful, exciting first half of the 2022 season. Several events early in the year are already in the planning stage, and details will be passed on as they become available. Like so many other clubs, we had our share of challenges over the past year and a half, but things opened up in the last quarter of 2021, and we were able to close out with several successful events around the Valley, and are hopeful of staying on a positive track as we move on into the new year.
With the holiday season winding down and schools still out for the younger set, there still may be an opportunity for those train buffs to take some time up at the McCormick Stillman Railroad Park in Scottsdale or on the weekends right here in Chandler. Check out the hours open to the public at the Chandler Train Museum located off Ryan and Arizona Avenue in Chandler. Both have websites that can provide additional information regarding their hours, and in Scottsdale, how long their festive holiday activities will remain on their calendar. Or feel free to give us a call for further assistance.
Our club typically meets on the first Saturday of the month from September through May. Meetings are held in the Lakeview Room, located at the SunBird Community Center on the first level at the SunBird Golf Resort. Meetings start at 9:30 a.m. Within the same building on the upper level, there is a restaurant that is open to the public. One more thing—one of the topics normally discussed at our meetings is the locations, times, and dates of the frequent train swap meets that are strictly dedicated to model railroading around the Valley. There's usually a small charge for admission, but for those with the interest, it's an enjoyable way to spend an hour or two, and possibly walk away with something you can't live without. If interested in that area, you can text me at 480-600-1349 and indicate your interest in "RR Swap Meets," and I'll pass on whatever information is available to me at the time. For any other information regarding our club, you can reach us at 480-802-4976 or by email at [email protected].
Have a great day and a healthy, safe new year.