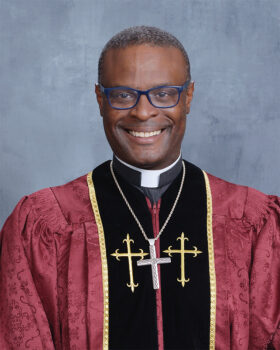 Rev. Derrick Elliott
Res·o·lu·tion, /rezəˈlo͞oSH(ə)n/, a noun
1. a firm decision to do or not to do something.
Not that I have already obtained all this, or have already been made perfect, but I press on to take hold of that for which Christ Jesus took hold of me. (Philippians 3:12, NIV)
Happy New Year!
Once more, we say goodbye to one year and hello to a new. We have made it around the sun one more time. Yippee! Traditionally, we make resolutions to become better than we were in the previous year. Perhaps it is to lose weight? Spend more time with the family? Perhaps getting  more involved in the community? Creating the annual list of New Year's resolutions is the old practice. I have done it myself. On Jan. 1 I set off with my newfound commitment. It seems to go well for the first few months (or should I say a couple of weeks), then life happens. I tend to fall back into my old habits and routines. A new year and a new me! Does this sound familiar? We all have made resolutions to change our undesirable habits/behaviors and replace them with habits/behaviors that bring fulfillment to our lives and celebrate and share God's greatness.
My friends, a new year isn't meant to catalyze sweeping changes. I see it as a chance for us to reflect on the past year and promise to make positive changes in ourselves, our family, and our community. When we make resolutions, it should be an act of recognizing that change is essential and that working toward those changes can enrich our lives. As Jesus calls us into discipleship and relationship, let us remember to believe God by forgetting those negative things behind us and moving forward to better things ahead. When we walk in love each day, we are not alone and have God with us "Emmanuel." And when you falter, remember you are God's beloved child, and nothing can snatch you out of God's hand.
We are children of a God, created to be in a good relationship and community. Let's make this year centered on honoring God, creating a transformative community (not just self but our neighbors), and sharing the gospel by proving that God's grace, justice, and love belong to all of God's family.