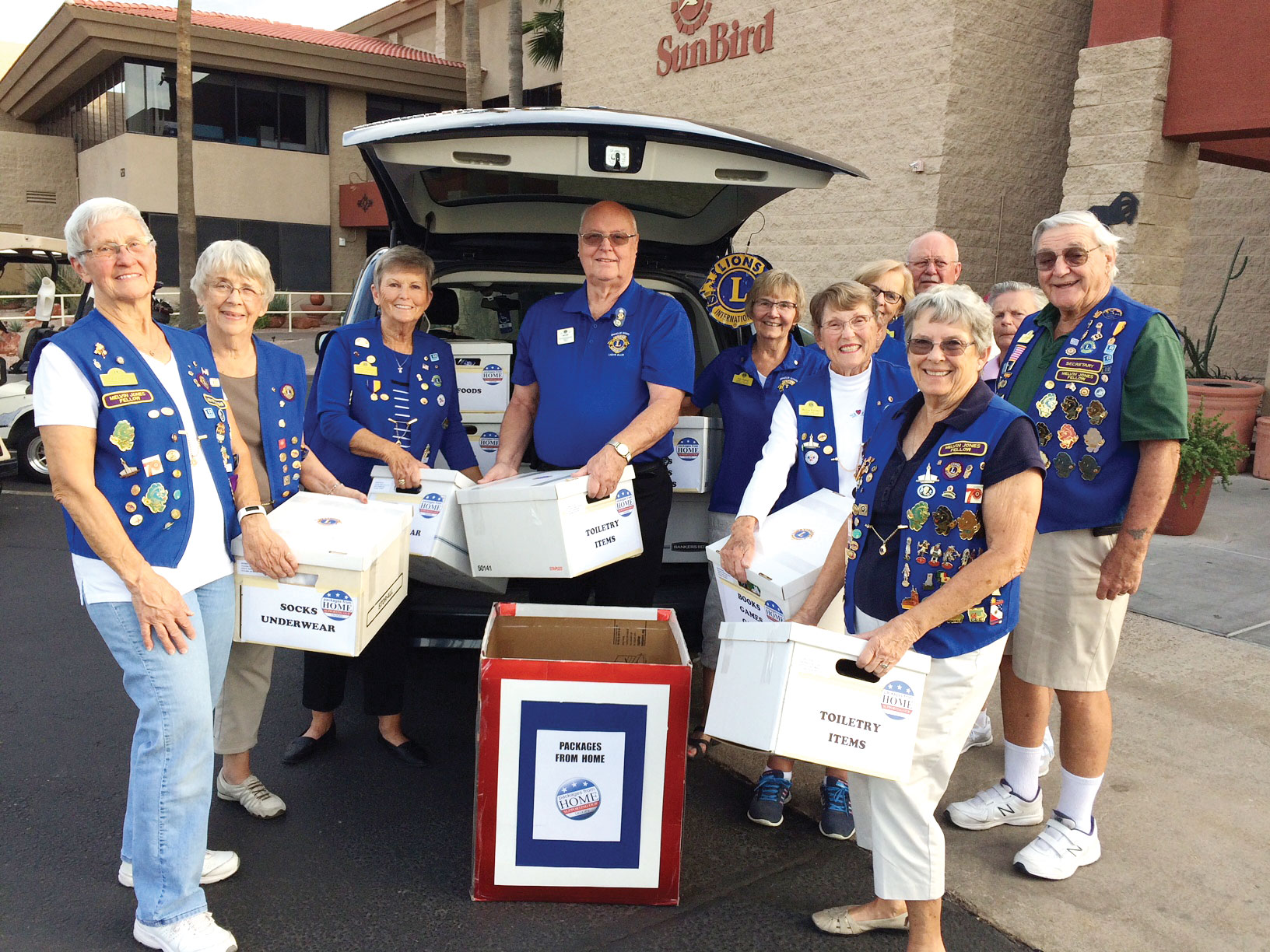 Marilyn Hespel
On November 11, the SunBird Lions Club held the annual "Salute Our Veterans" Golf Tournament and also collected donations for the "Packages from Home" organization. Both the golfers and members of the community brought donations to the golf tournament or left them in the dedicated box in the community center.
The "Packages from Home" organization, located on 7th Avenue in Phoenix, sends boxes of varied items to our active troops who are serving our country abroad. "The mission of 'Packages from Home' is to send care and comfort packages to deployed American military heroes who are stationed in active duty theaters around the world, as well as to facilitate activities that elevate morale of all veterans."
The donations of goods collected by the Lions this year included 109 pairs of socks, 12 pairs of underwear and 215 pounds of assorted items that filled 12 cartons. The items collected were assorted toiletries such as shampoos, powder, lotion, bar soap, hand sanitizers, tooth brushes and toothpaste. Also donated were many paperback books, boxes of greeting cards, pads of paper, pens, games, many decks of playing cards and assorted puzzles. There was also 65 pounds of varied snacks and canned goods, such as pretzels, bags of candy, gum, canned soups and peanut butter and jelly.
Several people made monetary donations that added up to $175. This cash will help deflect the cost of postage incurred when mailing these boxes of home goods to our troops.
The "Packages from Home" organization was very appreciative of everyone's generosity. This annual project of the SunBird Lions Club was a huge success and provided us with a gratifying way to both "Salute our Soldiers" as well as "Salute our Veterans." The SunBird Lions would like to thank all those who donated to this worthy cause.
If you missed our annual collection and still have items you would like to donate to the "Packages from Home" organization, you may take them to the local drop-off center at "Post Net" located at 1909 E. Ray Road #9, Chandler, AZ 85225, on the southwest corner of Cooper Road. Just mark your donations "Packages from Home."