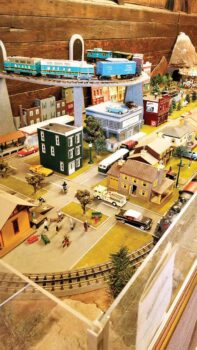 Harry Huckemeyer
Still being somewhat cautious but back in full swing, the 2022 season for the Short Line Model Railroad Club is continuing to head in a positive direction, with new ideas and opportunities always under review. Since late last year and up to the current month, we were fortunate to participate in several events, both in the Sun Lakes area and outside around the Valley, where the Model Railroad World is doing well. We want to thank all who follow us in these surroundings, and new, interested members are always welcome. New plans that are being put in place later in the year are currently in the development stage and will include a significant number of hands-on activities where a little creativity and experience is always welcome. Technology is an ever-changing challenge for all of us, and it is amazing to compare the old days with a set of Lionels running around a Christmas tree to what is available in today's marketplace.
For some of the locals or their visiting guests, I suggest you may consider a short trip up the 101 for a visit to the McCormick Stillman Railroad Park off Scottsdale Road in Scottsdale. A little bit closer in Chandler, just off Arizona Avenue and Ryan, is the Arizona Railroad Museum. This is only open on weekends in season, but it is well worth the trip. The Park in Scottsdale is open to the public and has food and a few rides available, plus many other areas of interest that I'm sure you will enjoy. As an added bonus, on the third Saturday of the month at the Arizona Railroad Museum, there is a box car open to the public that is loaded with an assortment of operating model railroad trains from the good old days, as well a touch of what's available currently. A volunteer on site will be able to answer any questions you may have while visiting. All of these locations do have a website for more details. Also, you may want to check out the ABTO website, as they typically have several garden layouts open to the public in the March timeframe in several areas of the Valley. If you have difficulty logging onto any of these locations, feel free to give me a call.
The Short Line Model Railroad Club meets on the first Saturday of the month from September through May. Meetings are held in the Lakeview Room located at the SunBird Community Center on the first level at the SunBird Golf Resort. Meetings start at 9:30 a.m. and, at times, we do have work sessions off site, as required, to ensure readiness for upcoming events. If you are a fan of model railroading or just thinking of getting involved, you may have an interest in attending a few of the frequent train-only swap meets that are available on a pretty regular basis around the Valley. If interested, it's an enjoyable way to spend an hour or two, and possibly walk away with something you can't live without at an affordable price. If interested, you can text me at 480-600-1349 for additional details. For any other information regarding our club or questions you may have, you can reach us at 480-802-4976 or [email protected]. Enjoy! Have a great day, and a healthy, safe new year.