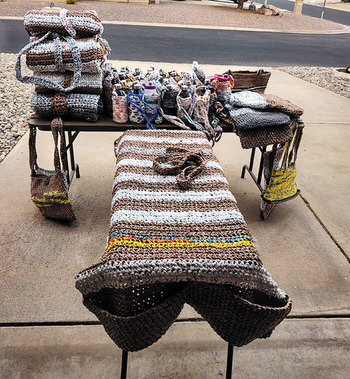 Mary Shelor
Mat Makers continue to work through the summer making sleeping mats, water bottle holders, and tote bags for the homeless in the Phoenix area.
We  want to thank all the people who donated plastic bags to us and even joined us the last few months flattening out plastic bags, folding, cutting, rolling them into balls of plarn (plastic yarn), and, finally, crocheting them. Some Wednesdays we had as many as 20 folks participating. And we had fun meeting new people, sharing stories, and laughing.
If you need your spirits lifted, join us any Wednesday morning from 9:30 a.m. to noon in the Hopi Room. All are welcome!