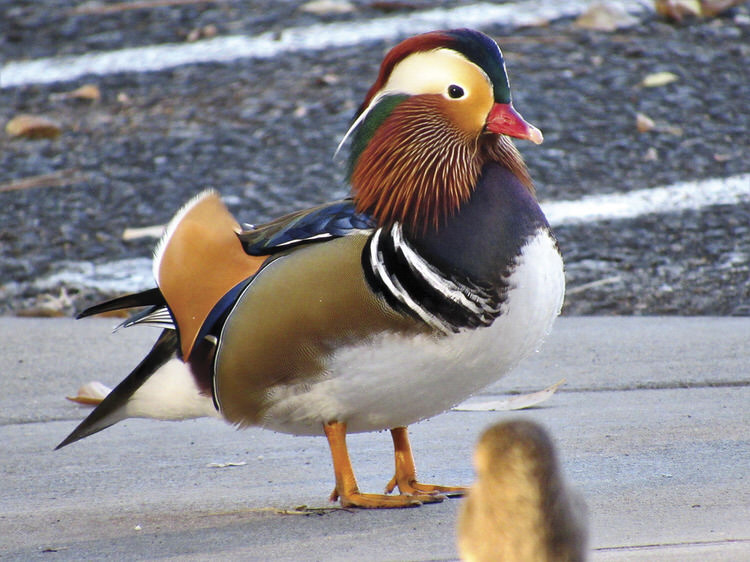 Gwen Grace
Beautiful Mandarin ducks were seen and photographed in Prescott, Ariz., in November. Through the Audubon network, the ducks were sighted and entered on the eBird alert so that birders could experience this once-in-a-lifetime event. Two males were seen!
This is what the exciting bird migration can bring as birds come up from southern warm areas to cooler northern clime, or in the case of a Mandarin duck, the direction is unknown. Desert Rivers Audubon Society invites you to join and participate in bird walks, take classes, and get connected locally and statewide. Don't just look at birds—look for them. Join the Audubon network at desertriversaudubon.org.
Locally: Family Bird Walks in Parks. Binoculars are lent out, and a bird leader will take you for a walk around the park, identifying the birds. There are small binoculars for children. The walks start at 8 a.m. and go for about an hour. The last walk is at 11:30 a.m. You will find books for sale, bird guides, nature books, bird art, and more.
Local Parks for Bird Walks:
Chandler Veterans Oasis Park at Chandler Heights Road and Lindsay Road on the first Saturday of the month until May. The next meeting is Dec. 3. Look for the large white tent.
Gilbert Water Ranch at Guadalupe Road and Greenfield Road on the third Saturday of the month until April. The next walk is Dec. 17.
Monthly Speaker Presentation: Second Tuesday of the month (Dec. 13). The Desert Rivers Audubon Society Monthly Speaker Series is now offered in person (September through April) and on Zoom (year-round) on the second Tuesday of every month at 7 p.m. Sign up at desertriversaudubon.org for Zoom programs. In-person meetings are at the Southeast Regional Library located at 775 N. Greenfield Road in Gilbert, corner of Greenfield Road and Guadalupe Road. CDC advisories are observed.
Statewide: Keep abreast of new and unusual bird sightings through the eBird app on your phone. Find Important Bird Areas (IBAs) in Arizona at aziba.org. Get connected through Desert Rivers Audubon.