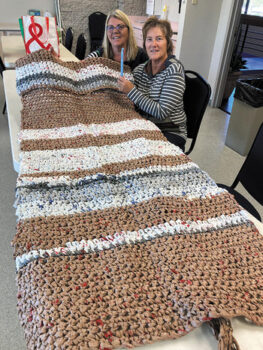 Jackie Cox
Heidi and Ann of the Mat Makers group are proud of the sleeping mat they helped make for homeless people. The team of about 15 cuts strips from plastic bags from different stores, which contribute to the color patterns. They are tied together, then crocheted into beautiful, resilient mats, as well as purses and carrying bags. One member delivers them to a liaison with our homeless residents.
Anyone is welcome to join the women who live at SunBird and surrounding communities and meet year-round upstairs at SunBird from 9:30 to 11:30 a.m. on Wednesdays.
Their organizer, Mary Schjon, presented the program to the Garden Club in January, noting that this is a small way everyone can help address the issues that plastic bag waste creates in our environment.