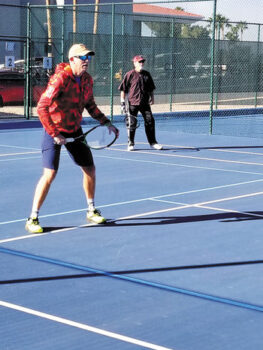 Sharlene Jerome
One of our newest members here at SunBird Tennis Club, James Morgan, has always been involved in sports, primarily racquet sports like racquetball, squash, and badminton. So, naturally, why would he not be interested in tennis? He has known fellow club member Melissa Craig from their hometown in Canada. When he moved to SunBird, he wanted to invest in learning about all the great amenities that we have to offer. Melissa invited James to come out and experience a great group of friendly, competitive (but not too competitive), and fun people.
You could instantly tell that he is a gifted athlete with lots of potential. What impressed me most about James is that he is a student of the game. At a recent tournament, in between his matches, he would strategically choose different players to watch, analyzing their spins and how they crafted winning combinations. Because of his other racquet sports, he was quite the quick learner, and his game is really shaping up quite nicely. James expressed to me that he really enjoys the fun people, the semi-competitive atmosphere, and that the sport is a great form of exercise. I can also tell you that he immediately fit into this group of occasional "trash talkers." He not only holds his own on the court, but off the court as well.
We are thrilled to have him as a member, as well as Greg Smith, recruited by Joan Boyle, and Brian Faltinson, recruited by Dianna Wreford. We are excited to see the Tennis Club growing. So come out and get in the game!