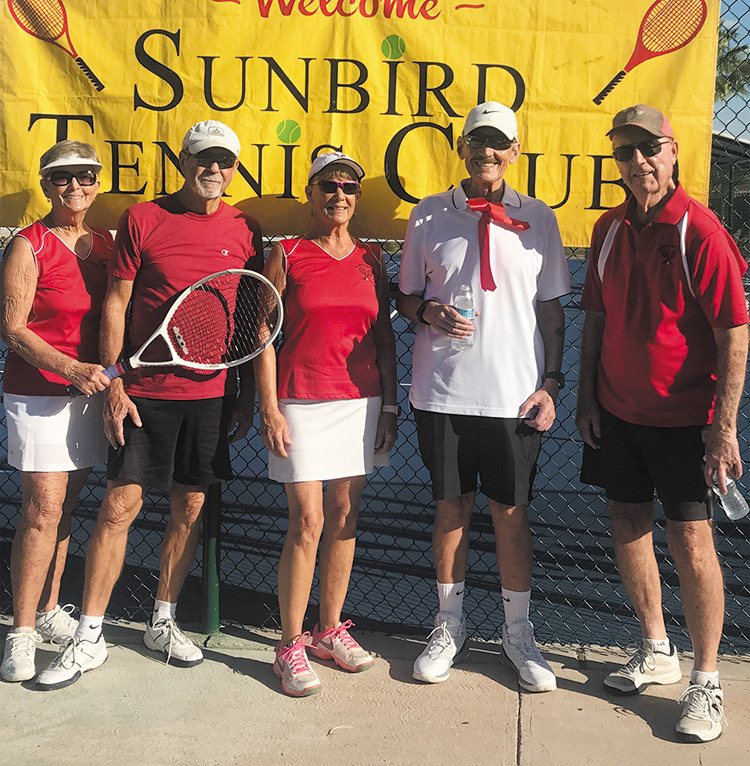 Jenifer Walden
We had a great time hosting our tennis buddies from Robson Ranch on Nov. 9. Barb Wallace and Pam Tiffany coordinated the scrumptious sloppy joe luncheon for this event. Thanks, girls! And kudos to all who volunteered their time and efforts to make this such a successful competition. We are hosting another event on Dec. 7. Trilogy is coming! We need some volunteers to help with set-up and food service for this event. Please step up to help! On Dec. 14, we are all going to Cottonwood to play in a joint SunBird/Springfield vs. Cottonwood tournament. Be sure to sign up on the tennis board or email Dianna if you wish to play!
The SunBird Community Day was a huge, well-attended event, as usual. We met many new residents interested in our sport and were pleased to donate a $30 gift card to the Horizon Room for the raffle.
The Paddles & Racquets sport court party was a fun and successful gathering of the Pickleball and Tennis Clubs. We really enjoyed meeting our fellow playmates. It was fun to meet new friends and see newcomers come by to learn how to play both games. And thank you, Julie, for serving up a great lunch for all of us!
Big thank you to Hank Van Gruensven for installing our shiny new scorecard holders on courts 1 and 2. Great job, Hank!
Our annual Christmas Dinner Dance (co-hosted with the SunBird Golf Club) is on Saturday, Dec. 14. We will be dancing our socks off to the great band Still Cruising, and Julie will be serving us all a delicious Christmas Roast Pork dinner with all the trimmings. The tickets are $25 per person and will be sold in the Puzzle Room on Sunday, Dec. 1, from 5 to 6 p.m. and on Monday, Dec. 2, from 5 to 6 p.m. only. This is THE best Christmas party of the season, so be sure to get your tickets! (If you can't eat pork, there will be a chicken option). Everyone in SunBird is invited! Join us in celebration of the season at the BEST party of the year!
If you are interested in joining our SunBird Tennis Club, please contact our president Christine Terechenok at 480-326-7346. Our next meeting will be held on Tuesday Dec. 2, at 5 p.m. in the Lakeview Room. We will be voting in our new officers for 2020, so be sure to attend!