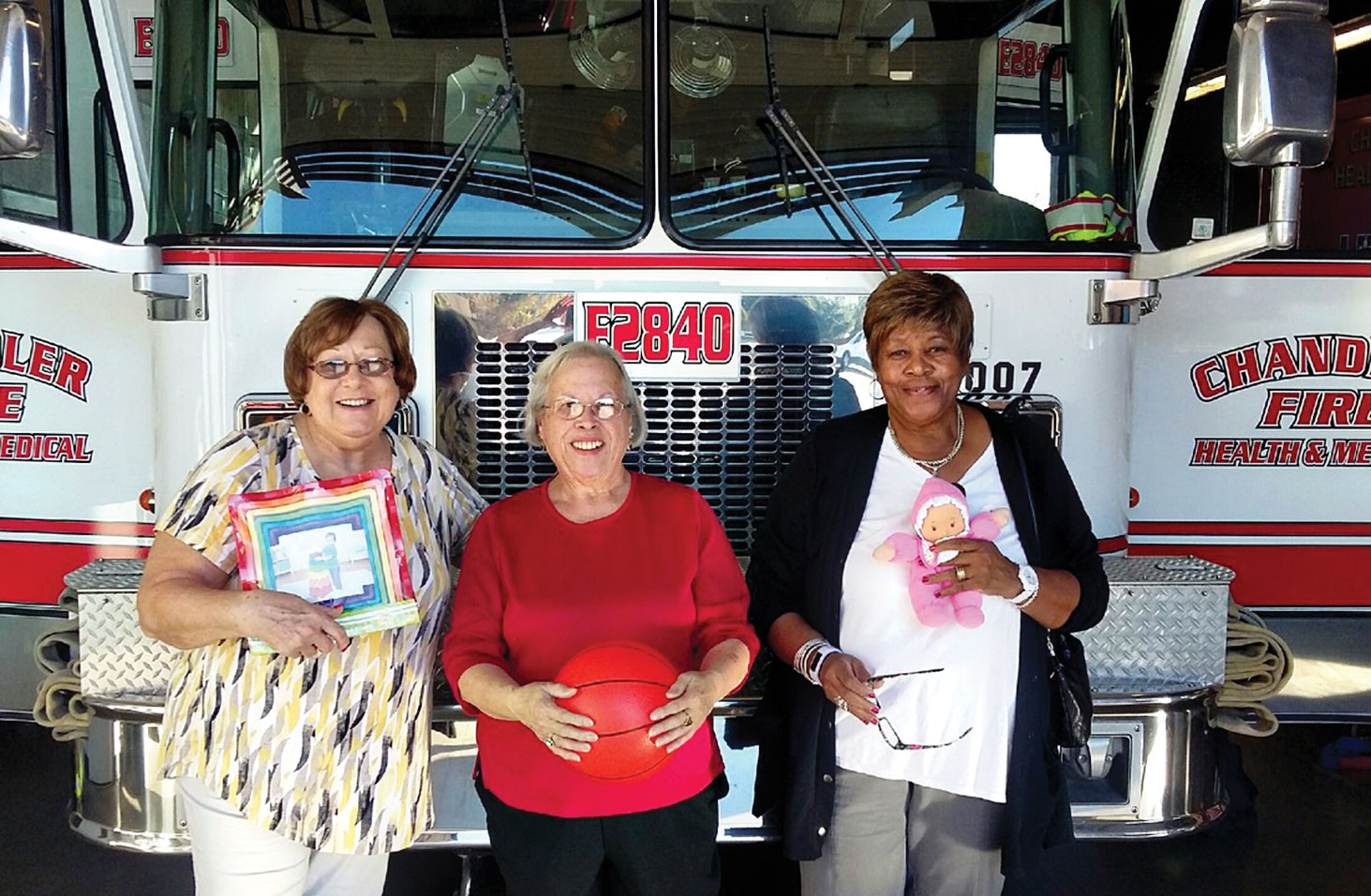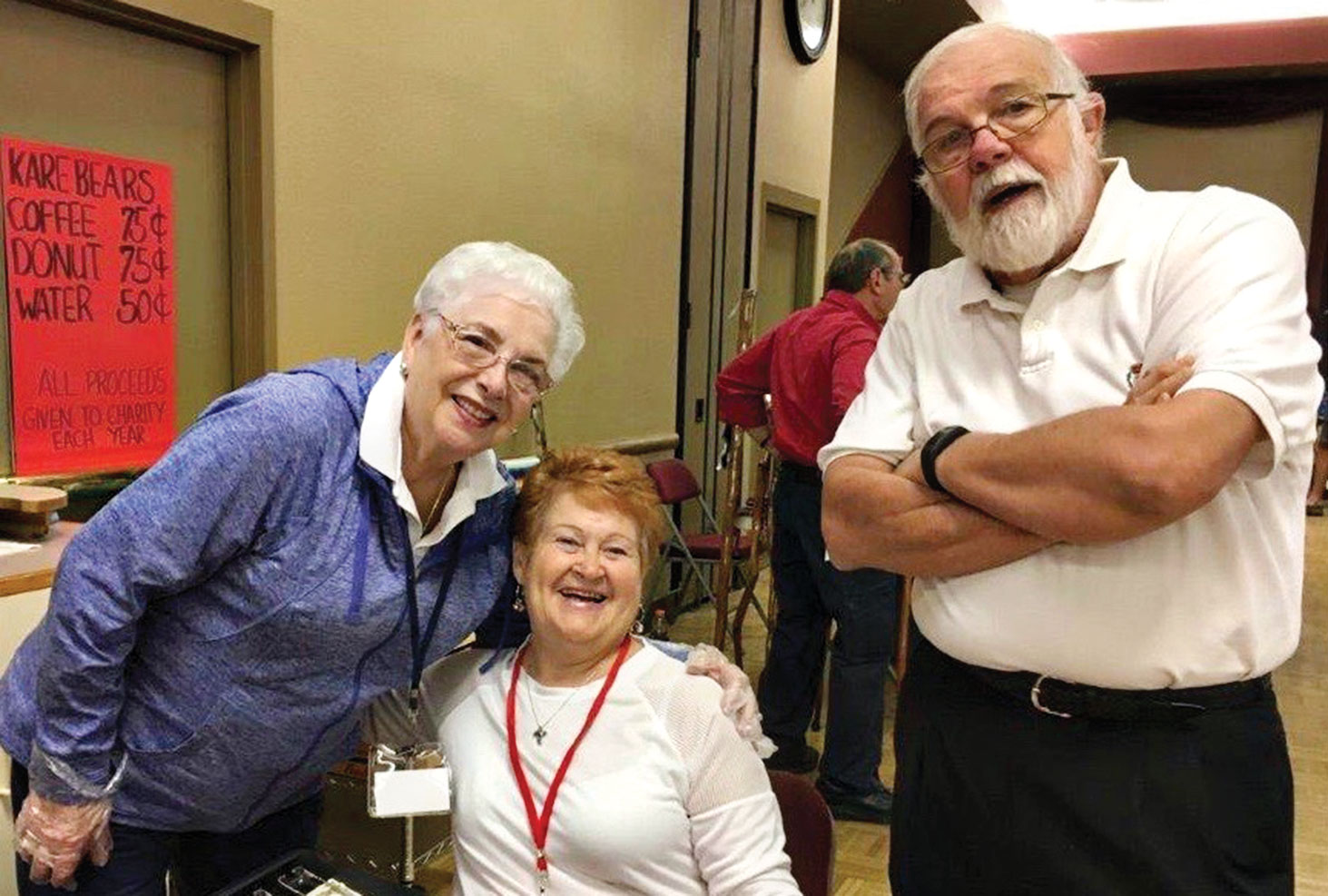 Rosie VanderVeen
Welcome to our four new Kare Bear members: Nancy Manning, Mary Jane Mogdans, Joanne Pfeifer and Rosemary Terhune!
All of our Kare Bears were enlightened by representatives from two of the organizations we support, Hamilton High School Homeless/Needy program and Boots in the House.
Speakers Jamie Sistek and Chris Omitt represent the Boots in the House Organization, a volunteer organization located in Chandler. Both women have children serving in the military. They are a non-profit group who support our military with various food/non-food items which are inaccessible in these remote areas. They ship care boxes that include café, hygiene products, toiletries, spa, candy and canine items, etc., to military branches all over the world. Postage is expensive! It cost $20 per box for the 429 they recently shipped – total cost over $8,500!
They are also seeking donations of wool socks for a future packing party. They apprised us regarding fundraisers presented at merchandising establishments, illustrating their mission to the public and seeking donations.
Rajani Rastogi, social worker for the Hamilton High School Homeless/Needy program, apprised our members of the program's development. Hamilton has a student population of 4,300, of which approximately 1,000 students, or one in four, participate in this program. Chandler Unified School District has hired an additional social worker, as well as a part-time assistant, for Rani. Two substantial fundraisers this year gave additional financial assistance to the program.
Hamilton's mentorship program continues to seek volunteers to assist with the emotional and academic needs for these children. Also available for the holidays is the Adopt a Family Program. The Sun Lakes Methodist Church and Safeway are donating ready-made turkey meals for the 106 families who have already registered.
The Chandler Rotary assisted Rajani at Hamilton in the organizing of the food and bottled water in the clothing storage room. Intel Corporation has offered the program a grant for a secondary office to secure other supplies, and they are now in the process of remodeling it. Donations of used laptops are needed, as well as granola or nutrition bars, gift cards for grocery stores, Walmart, Target, etc. Hamilton High approved a holiday dinner, on site, for the program's 325 who have registered.
The December Kare Bear Faire was a flurry of residents, guests and varied vendors. All KB fundraiser profits are contributed to varied creditable charities in Chandler.
The Kare Bear Board delivered toys on December 6 to the Fire House #10, to be distributed at Christmas to children living in the Chandler area.
The Christmas luncheon this year was held on December 20. Chairpersons for the event were Dee Brown Knoeppel and Juanita Harbut. Sherry Fann and Julie in the Horizon Room agreed on a menu. Jackie Baker crafted the centerpieces. A big thanks to all!
Our next Kare Bear meeting will be on January 17 in the ballroom. The speaker is from Neighbors Who Care in Sun Lakes. Come join us!