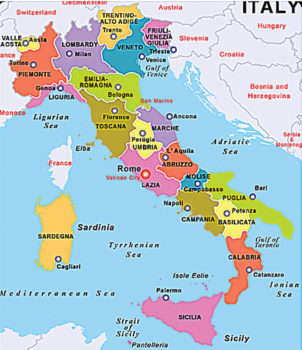 Frank Nechvatal
Our Italian Club finished the 2018/2019 season with a Patio Party on April 9. The club dined on chicken, potato salad and other dishes and desserts that members brought to the party. A great time was had by all who attended.
Mark your calendars for the fall – we will start the 2019/2020 season with a meeting on Tuesday, October 8, 2019, at 6:00 p.m. in the Lakeview Room. A reminder to our club ladies, if you are interested in attending the various summer luncheons, be sure to sign up with Christine Nechvatal. Her phone number is 883-9262. The series will begin in May.
Did you know that Italy has only one state? – Italy. However, there are 20 Administrative Regions. These regions mirror our 50 states in the United States of America. Their regional capitals operate as the governments of each of these regions and, of course, coordinate with the central government of Italy in Rome. The following regions are listed in alphabetical order, along with their capital cities: 1. Abruzzo – L'Aquila, 2. Aosta Valley – Aosta, 3. Apuilia – Bari, 4. Basilicata – Potenza, 5. Calabria -Catanzaro, 6. Campania – Naples, 7. Emilia-Romagne – Bologna, 8. Friuli-Venezia Giulia – Trieste, 9. Lazio – Rome, 10. Liguria – Genoa, 11. Lombardy – Milan, 12. Marche – Ancona, 13. Molise – Campobasso, 14. Piedmont – Turin, 15. Sardinia – Cagliari, 16. Sicily – Palermo, 17. Tuscany – Florence, 18. Trentino-Alto Adge/Sudtirol – Teento, 19. Umbria – Perugia, 20. Veneto – Venice.
In upcoming articles, we will explore the listed regions as to their characteristics and history. Stay tuned.
Ciao