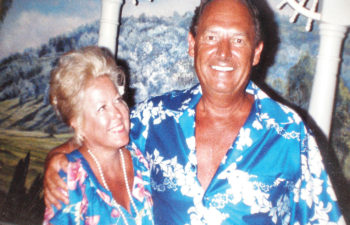 Bob Neuman
To attempt to recount this SunBird gentleman's life in a brief article is similar to being allowed only one bite of a prime steak. Ron Hawley really requires a book.
He has moved in top business circles, saw combat in two wars, survived seven typhoons in the China Seas, has been to the North Pole and accompanied Admiral Byrd to the South Pole. He was raised by a famous Hollywood actress and was friends with numerous Hollywood entertainers. He was an inventor, a campaign manager for a president and married Polly… Miss Sunbeam Bread.
Ron began life in Seattle. His father was an engineer. His mother, an actress, sadly died when Ron was still a child. He then lived with his virtual mother, Andrea Leeds.
"Andrea, a supporting player of the 1930s, once read for the part of Melanie in Gone with the Wind and was nominated for an Academy Award for Stage Door in 1937. In 1936, she had played her first substantial role in It Could Happen to You. She became part of an ensemble cast that included Katharine Hepburn, Ginger Rogers and Lucille Ball. Her wholesome quality led to being cast in The Goldwyn Follies. She played opposite Joel McCrae in Youth Takes a Fling and They Shall Have Music.
She also acted with Gary Cooper and David Niven. She starred with Don Ameche in Swanee River, the life of Stephen Foster (1939). Her final film in 1940 was Earthbound, after which she retired to be with her husband Robert Stewart Howard, a successful horse owner whose father owned and raced Seabiscuit. She died at age 69 in Palm Springs in 1984." (Wikipedia encyclopedia)
Through Andréa, Ron became friends with famous screen players, among them Glen Ford, Robert Taylor, Ronald Reagan, George Murphy, Susan Hayward ("I was in love with her at age five"), George Brent and Jimmy Stewart. "Jimmy was just as he appeared in the movies, a wonderful man. George Murphy, the future U.S. senator was one of the best."
Ron became especially close with John Wayne, who owned a yacht fashioned from a former minesweeper, although his films showing him on ships were movie sets. Once he became unusually reflective on one of their fishing trips and confided to Ron, "The worst thing I ever did was pick up that first cigarette." He died four months later from cancer.
He met Ronald Reagan after being in the Mariana Islands "turkey shoot" where Americans destroyed 600 Japanese airplanes and three aircraft carriers June 19-20, 1944. Later, Reagan, while still President of the Screen Actors Guild, was concerned about communism, so he asked author Dr. Fred Schwarz to contact Ron, George Murphy and John Wayne.
These four conducted rallies in various areas like the Hollywood Bowl to speak against the system.
Later, Ron was to become Reagan's state chairman in Washington and California. "Ronald was one of the most genteel gentleman ever known.
He was generous and natural. I attended five Republican Conventions and worked for Barry Goldwater in his bid for president."
This story will continue in the August SunBird News!