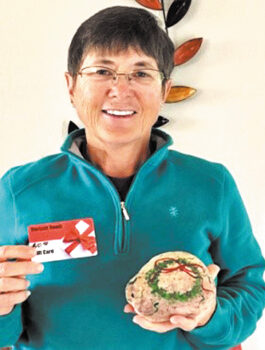 Jan Davidson
To all you leap year babies living here in SunBird—Happy "February 29" Birthday from the SunBird Garden Club as you actually celebrate on your special date.
Also, we are happy to announce that our December and first "Rock of the Month" winner is Cindy Vig. She found the wreath rock near hole #10 along SunBird Boulevard. She said that she always looks at the rock gardens around that area and was surprised to see it tucked in next to a boulder. For her good "spotting," she received a $10 gift card to the Horizon Room. You, too, can be a lucky winner by keeping your eyes peeled for the "Rock of the Month" when you are out walking in our lovely community. Check the bulletin board in the clubhouse for the current photo of the "Rock of the Month."
This month, the Garden Club will take part in two events. By the time that you read this column, the first event will already be, as they say, "in the bag." Every year, the Garden Club plans a field trip as part of our curriculum. This year, we decided to join the HOA-sponsored trip to the Sonoran Desert Museum, and that took place on Friday, Feb. 3. Later on this month, on Friday, Feb. 14, our Garden Club members will enjoy our annual Valentine's Day Tea in conjunction with our monthly meeting.
Coming up on Tuesday, March 3, the Garden Club will be hosting our annual "Community Appreciation Night" at 7 p.m. in the SunBird ballroom. Our guest speaker will be Kelly Mero, publisher of the Arizona Highways magazine. This promises to be an excellent talk on the history of this marvelous and informative magazine. The first release was published in 1925 in black and white, with the first color issue on the newsstands in 1946. This magazine contains well-researched articles that accompany many of the spectacular pictures taken by professional and amateur photographers alike along the highways and byways in the State of Arizona. This magazine is published without the benefit of advertisements. So to remain viable, they have since added other products to defray the costs. Besides the monthly magazine, they have created the Arizona Highways calendars. These highlight some of the most breathtaking photos, taken at various times of the year, of the many unique and spectacular locations in Arizona. In addition, they also publish a Scenic Collection Series of outstanding photos, an Arizona guidebook, as well as an Arizona Highways Photography guidebook. Heck, they even have a gift shop! We hope that you will come and enjoy this presentation. Please come early to get a good seat. There will not be an admission fee, as it is our gift to the community, but donations to the Garden Club for their "Keep SunBird Beautiful" projects would be gratefully accepted. And as a special bonus, two lucky people in attendance will be given a year's subscription, courtesy of the Arizona Highways magazine.
Lastly, it's back for its 11th year — yes, we are talking about the SunBird Garden Club's hugely successful Home and Garden Tour. So, please mark your calendars for Sunday, March 8. Tickets will be available at the office (about three to four weeks prior to the tour), and the cost is $10. The tour runs from 2 to 4 p.m., and refreshments will be served at one of the homes on the tour. We are extremely fortunate and appreciative every year to have homeowners who will open their lovely homes to our community. Truly, each one is unique! So come out and join us—not only will you have a good time, but you will be helping the SunBird Garden Club fund our various "Keep SunBird Beautiful" projects.