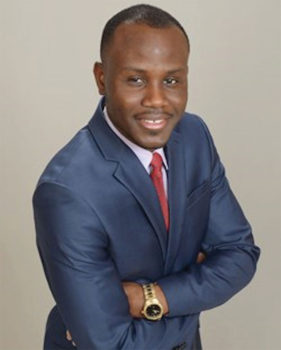 Norm Noble
On Tuesday, October 2, Yanick Hicks, a motivational and leadership trainer with the John Maxwell Group, will speak to the Sun Lakes Rotary Club. Yanick grew up in the small West African country of Cameroon. Things were tough when he first came to the United States. He was mocked by other kids in high school because of his accent and, as a result, developed low self-esteem and low self-confidence. A couple of months later, he discovered beer and became dependent on it. He enjoyed socializing and partying more than studying. Yet, he was studying at the University of Georgia to complete the prerequisites he would need to be accepted into a doctoral program in pharmacy. "It wasn't until I got arrested driving under the influence of alcohol that I realized how destructive my behaviors were," he said. "The arrest cost my family financially and created unnecessary obstacles for me while I was meeting my goal to become a pharmacist. The turning point came when I took a long, hard look at myself. I realized that I had a bad reputation among friends, family and acquaintances. I had trouble finishing my undergraduate studies and was having difficulty finding a doctoral program in pharmacy that would accept me. I was ready to make positive changes in my life."
He successfully completed his doctoral studies in 2017. Today, he holds a PharmD from Marshall University. But because of his life experiences, he now hosts leadership and development trainings and events for the John Maxwell Group. That will be his topic on October 2.
On Tuesday, October 9, Brian Quillen, the Senior Director of Community Services from BlueStar Resort & Golf will share all aspects of his job here in IronOaks. He brings over 13 years of community management experience. Most recently, Brian was the Builder Services Team Leader for City Property Management in Phoenix. Prior to this position, he was Community Manager for AAM for eight years. In this position, Brian managed two active adult communities as an on-sight manager and other communities as a portfolio manager. Early in his career, Brian was a food and beverage manager in several different restaurant concepts. Brian has also taught classes on community management, helping new managers learn the ins and outs of managing homeowners' associations. An avid golfer, Brian is happy to work in an association that has 45 holes of championship golf. Brian's credentials include a B.S. from the University of Nevada Las Vegas, Arizona Association of Community Managers CAAM Certified, Association Management Specialists and Certified Manager of Community Associations.
BlueStar is a boutique management firm focused on supporting developers, asset managers and community Boards in the successful operation of their resort and golf amenities. Their expertise is in all aspects of hospitality management, including golf, spa, food & beverage, community clubs and more, and providing full-scale landscape services in some locations. Their portfolio spans literally from Orlando to Oahu, with many beautiful locations, including Sun Lakes, in between.