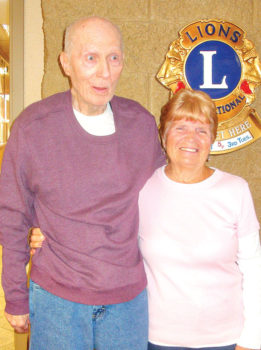 Bob Neuman
In 1908, Henry Ford rolled out his first car made in Detroit. It cost $850.00. This may have started the industrial boom that lasted many years in that city, but things change, just as did the success of Detroit.
Gerry McHugh started at Ford and obtained numerous promotions until retiring 43 years later. They had visited Marcia's mother who then resided in Mesa. When visiting her, they looked at many retirement places. About ready to settle on Sun Lakes, someone mentioned SunBird. When they toured, that was the end of the search.
Now he and Marcia have lived contently in SunBird 23 years. Do they like it? Marcia exclaims, "It is the best place in the universe."
Marcia began life in Wisconsin and graduated high school in 1952. Among other activities, she had been a majorette, something she continued when attending Ripon College. She and Gerry married in 1965, and eventually there were three boys and three girls, so Marcia became a stay at home mom and working later. She mentions how the boys were excellent hockey players. A son and daughter live in Arizona; the rest in Michigan. They also have three grandchildren.
Gerry attended high school in Detroit and played semi-pro football then and later. He told how the game was near Jackson Prison and how the inmates would gather and watch through the fence. "They yelled at us and asked me my number, and when I told them 50, they began yelling for me."
He also served 15 years in the Army Reserve, becoming active when the Vietnam War broke out and was sent to Georgia.
The couple have taken cruises to Alaska, Caribbean, Panama Canal and Hawaii. They agree that the Panama Canal was best.
To say they have been active at SunBird is an understatement. Gerry had one adventure he did not volunteer. In 2010, he went through five heart bypasses that slowed him down. Prior, he played with the Horseshoe Club and kept the records and did the scheduling for the teams. He bowled and enjoyed woodworking. Marcia is interested and quite active with the Kare Bears and is pleased to be a member of SunBird Community Church and Lions Club. Though the years, there has been bowling, cards and the Irish Club.
So, there you have another great SunBird couple – Gerry, the quiet one, and Marcia, the outgoing one who likes people and speaking with them. As she puts it, "What you see is what you get. Take it or leave it." Well, young lady, what we see is what we like.