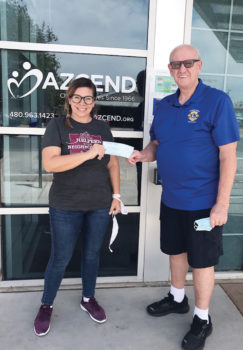 Arlene Block
We hope that everyone is doing well.
SunBird Lions Club is still trying to serve our community and others by staying safe and healthy. Lion Bill Hespel has delivered a check to AZCEND Food Pantry to help them replenish their shelves. The SunBird Lions Club is proud of all its members and friends who make this all possible.
Please remember to drop off your aluminum cans in the receptacles around SunBird clubhouse. Flags can be set up by Lion Carol Zittle. We still have many holidays to go this year to wave your flag proudly. Contact Lion Carol at 480-883-0958.