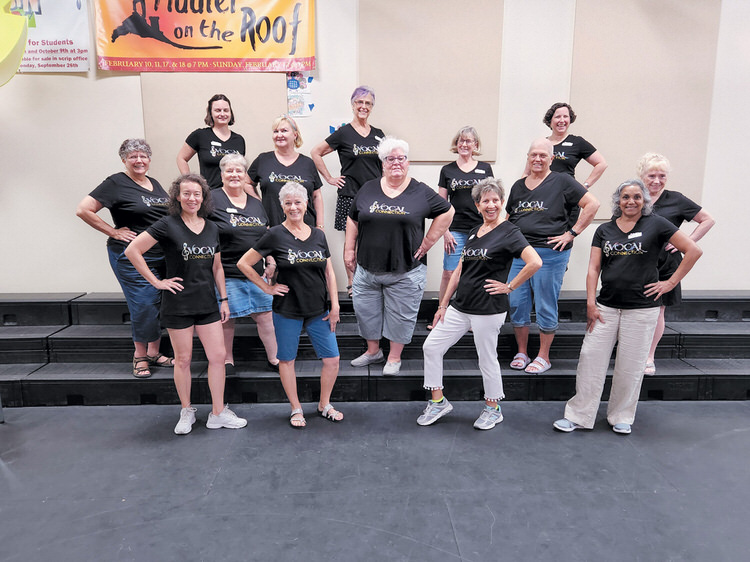 Barb Hyder
It's a proven fact that singing in a chorus is more fun when surrounded by friends, singing their hearts out. According to recent research, humans are wired for rhythmic togetherness and bond best when making music with each other. Why?
Studies show that singing in a chorus improves our mood, with a decrease in stress, depression, and anxiety. These effects are linked to the use of deeper breathing techniques associated with singing. The benefits are enhanced in a group setting, because singing in a group offers a sense of belonging to something larger than ourselves.
Beyond the psychological effects, our physical health is impacted also: lower blood pressure, increased blood oxygen saturation, elevated immunity, higher pain threshold, and stronger respiratory muscles.
Another notion is that the experience of making music together provides a sense of awe, not just for the observers of a performance, but for the participants, as well. Research shows that this emotion seems to shift our focus from our own self-view to that of our community.
Vocal Connection, a women's a cappella chorus, is extending an invitation to women looking to make a New Year's resolution to decrease stress, improve their health, and make connections with other like-minded women in the community, all while singing!
The chorus meets every Monday night at Seton Catholic Preparatory, 1150 N. Dobson Road, Chandler, Ariz., from 6:30 to 9:30 p.m. (just follow the signs). Interested women are welcome to visit any Monday night. Guests need to be able to sing but are not required to read music. If interested in attending an upcoming rehearsal, please email [email protected] for more details (carpooling is available).
Vocal Connection Chorus is one of hundreds of Sweet Adeline International choruses that make up a worldwide organization of women who sing four-part a cappella and barbershop harmony. Vocal Connection Chorus performs regularly throughout the community, offering its talent for entertainment at civic events and charitable functions, in addition to promoting harmony and friendship among women. The chorus will be appearing at the Sun Lakes Talent Show on Feb. 15 at 6:30 p.m. at the Cottonwood Country Club. For tickets, go to www.eventbrite.com and search "Sun Lakes Talent Show."
If you would like more information about Vocal Connection, please email [email protected] or visit our website, www.vocalconnection.org.