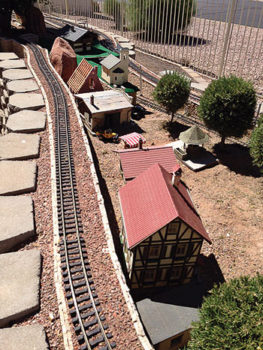 Harry Huckemeyer
As the start of the new year moves right along, it's pretty easy to appreciate the wonderful things that are available to all of us in this part of the country. Within reach, one can experience the pleasant breezes of the ocean not too many hours away, or maybe experience a little bit of snow up in the high country. Perhaps you would rather play some golf at one of the many golf courses that are close by. Football just finished up not too many days ago, with baseball's spring training already filling many of the stadiums that can be reached rather easily where you can see many of your favorite teams in action. Enjoy and make the most of every day catching up on times with your friends and families and meeting new ones as you move around the area.
For those interested in Model Railroading, there are a few things you may want to add to your calendar. The McCormick-Stillman Railroad Park in Scottsdale has a lot to offer with its Train Ride and Carousel for the young at heart, plus a wonderful museum where you can get to appreciate the effort put in by many to make this so special. Additionally, a short trip can get you to Adobe Mountain Park where on March 16 there will be a swap meet that will be open from 9:00 a.m. to 1:00 p.m., and on that day, children will be able to ride their trains free of charge. For further information, you can call 623-670-1904.
Last, but not least, out at Apache Junction, you can attend the Superstition Mountain Music Festival (called last year's Blue Grass Festival). That is scheduled for March 10 and 11. In addition to the fine music you will hear, there will be model trains to see once again and also an assortment of fine food that you can enjoy.
If you would like any information relating to our club, the Shortline Model Railroad Club, regarding membership, meetings and major events we're planning on participating in this year, feel free to call. I can be reached at 480-802-4976 or by email at [email protected] Have a great day, and enjoy everything it has to offer.