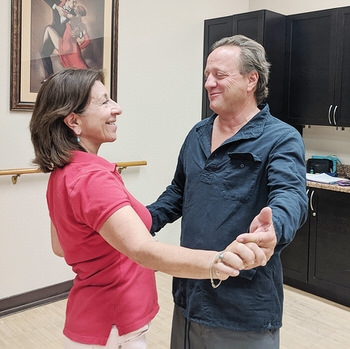 Mary Lou Kaye
Spring is right around the corner. It's a great time to learn to dance with your favorite partner. And, there's talk of opportunities to visit your favorite ballroom and strut your stuff pretty soon.
Basic social dance classes are offered to residents of all of the Sun Lakes and SunBird communities at the Dance Studio in Cottonwood Palo Verde. Residents from Robson Ranch are also welcome to attend. There's nothing to memorize, and we focus on our partner and the music being played. The location of the classes is the Dance Studio in the Cottonwood Palo Verde community, room A-6.
With the extraordinarily simple method created by Mary Lou Kaye, your certified instructor, there is no memorization of specific steps, and at the end of your first hour, you'll be able to move to any music you hear. Just: watch … follow … dance!
Classes will be starting soon. To get all the details, call 480-939-1869 or email Mary Lou at [email protected]. Residents from Sun Lakes, SunBird, and Robson Ranch are welcome.