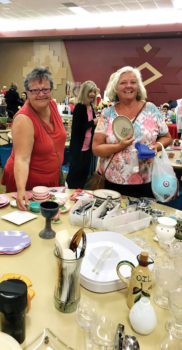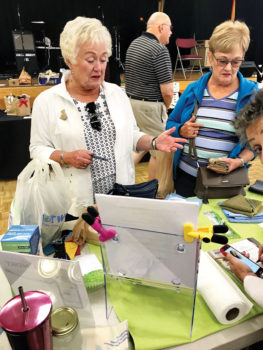 Rosie VanderVeen
It's been an exciting year for the Kare Bears! Lots of events with many opportunities to volunteer. Kare Bear Faires are more popular than ever – a place to shop and mingle with friends and make new acquaintances. Sherry Fann would like to thank the SunBird community for all of the items they have donated this year to the white elephant table. If you have any donations, please contact her at 480-883-1167. Additionally, we'd like to thank the vendors for donating gifts for our 50/50 raffle ticket drawing.
There are many of our Kare Bears who volunteer with other groups, such as Neighbors Who Care, St Mary's Food Bank, St. Peters Indian Mission, Lions Club and St. Vincent de Paul. They find great reward in giving back to the community and serving those who might otherwise be forgotten. There are so many ways to serve in the City of Chandler and beyond. What an awesome group of women!
The speaker at our February meeting was Lynn Lanza from Paper Cranes. She shared vital information on the disease diabetes, a result of our bodies' inability to respond positively to the hormone, insulin. She detailed the various categories of the disease, symptoms and suggested foods recommended for a healthier lifestyle that might result in lowering blood sugar levels. Paper Cranes offers many classes to diabetics, some of which may be covered by your insurance.
Lynn assigned volunteers Deanna Calvert, Vicki Baker and Treva Christensen to take part in a skit which presented how glucose, cells and insulin all operate in sync. She clarified the symptoms of diabetes and hyperglycemia. We all require healthy lifestyle changes, i.e., weight loss, exercise, optimum menu selections, etc., to assist in the prevention of and living with these diseases.
Deanna Calvert, Linda Bengston and Margaret Speer will be leaving the Kare Bear Board this year. Many thanks to all three for their valuable service and contributions. We will have voted on their replacements at our March meeting. Proposed Kare Bear donations for 2018-2019 will be posted in the May issue.
Our Appreciation Luncheon was held on March 29. Shirley Jackson and Emily Hughes arranged with the Horizon Room for a taco bar and dessert.