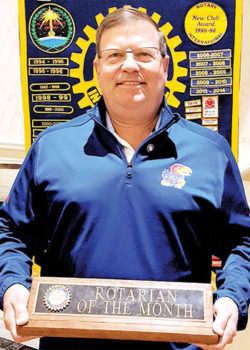 Dick Nelsen
Last month, the Sun Lakes Rotary Club selected a hard-working member, Chuck Deuth – the overseer of two of our biggest programs – the Dictionary project and the Choices project – as the Rotarian of the month for February.
The Dictionary project provides a dictionary to every 3rd grader in the Chandler Unified District. This means over 4,000 third graders receive this extraordinary dictionary every year. Each of the excited children have his or her own book where they sign their names and now it's their very own. It is more than words and their meanings, but information on our Presidents, all fifty United States, the Constitution, maps of the world, sign language, and more. Plus, the one thing the kids remember the most: The Longest Word in the English language – that has 1,909 letters. They get a kick out of seeing it but fear their teacher will make them spell it.
Chuck also oversees the Choices program. This is a teaching program presented by Sun Lakes Rotary for every 9th grader in the Chandler Unified School District. It's a special program that is designed to help students make good decisions regarding their education, and to see the impact of their decisions on their success in the future. As an aside, if you ask these 14-year olds if they remember receiving a dictionary in 3rd grade from Rotary, many get big smiles on their faces, and some say they keep it by their beds for reference. Kind of neat, don't you think? Particularly in this day of computers.
So what about the gentleman who coordinates these two educational programs: How about a Rotarian who received a BS degree from Fort Hays Kansas State and taught high school math. In addition, he gained sales experience with IBM and sales with Financial Services organizations.
Chuck and his wife Kathy have three children and two grandchildren. They are snowbirds who retreat to Kansas throughout the year, but when they are here, they are active in Risen Savior Lutheran Church.