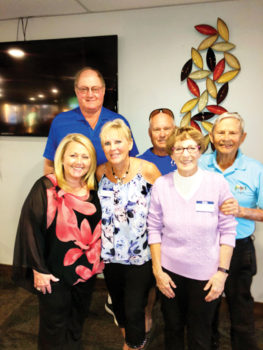 Ruth Anne Hobbs, Special Events Coordinator
Roadrunners Golf and Social Club has been so much fun! The third annual Poker Run was just one of the many events we will be planning for to get together and enjoy the fun of these special club activities.
Special thank you to those members who graciously opened their homes for "treats" and drinks — Jim Bickett/Kitty Determan, Bryon and Becky Hock and Char Donaldson/Mel Flinkman.
Winners: Wanda Gastineau – 1st, Linda Walden – 2nd, Terry Randles – 3rd
All this fun and more followed by a great baked potato/condiments and chili light dinner in the Horizon Room.
Thank you, BJ, Joan Seaman, June Yates, Don/Jan Habermehl, Stan/Jean Milanowski, Margaret O'Brian/Nancy Ratermann and Julie, for all of your assistance!