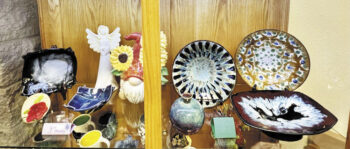 The Pottery and Ceramics Studio is available to any SunBird resident with dues of $25 twice a year and a table fee of $1 for every time you use the studio. The dues and table fees cover the expenses to run the studio. Pottery and glazing classes are offered throughout the month for an additional fee. Pottery class fees do not include the clay; however, clay is available for purchase in the studio. The HOA supports this activity and has funded the replacement of one of the two kilns, with plans to replace the second one in the first quarter of 2024.
For questions, stop by the studio on Tuesdays from 9 a.m. to noon, and a board member will be available to answer any questions.
Join us for the Kare Bear Fair on Saturday, Dec. 2, from 8 a.m. to noon where a variety of beautiful ceramic and pottery pieces will be available for sale, including mugs, bowls, Christmas ornaments, gift tags, bud vases, gnomes, eyeglass holders, and brown sugar keepers. We hope to see you then!