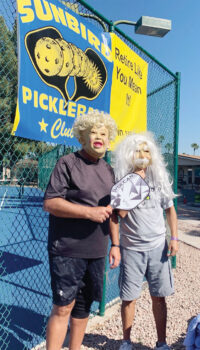 The summer sessions are managed via an online SignUpGenius. Summer hours end on Nov. 1. Drop-in hours from May 1 to Oct. 31 are Tuesday, Wednesday, and Thursday at 7 a.m., and Wednesday and Saturday nights at 7 p.m.
If you would like to be added, send your email address to Marianna Buescher at [email protected] or text 480-285-4501.
Club sign-up starts in September. Please show up at the courts with your $20 (cash only) the first time you come out to play. Fill out the waiver, put it all in an envelope, and put your name on the envelope. Envelopes are available in the pink bag (someone will help you—just ask).
The current pickleball leadership team is Dan Buescher, Marianna Buescher, Glen Klein, Brian Long, and Suzanne Lipke.
Have questions or want to learn? Feel free to contact Marianna Buescher (details above) or sign up on the glass case across from the post office in the breezeway. Keep On Picklin'!