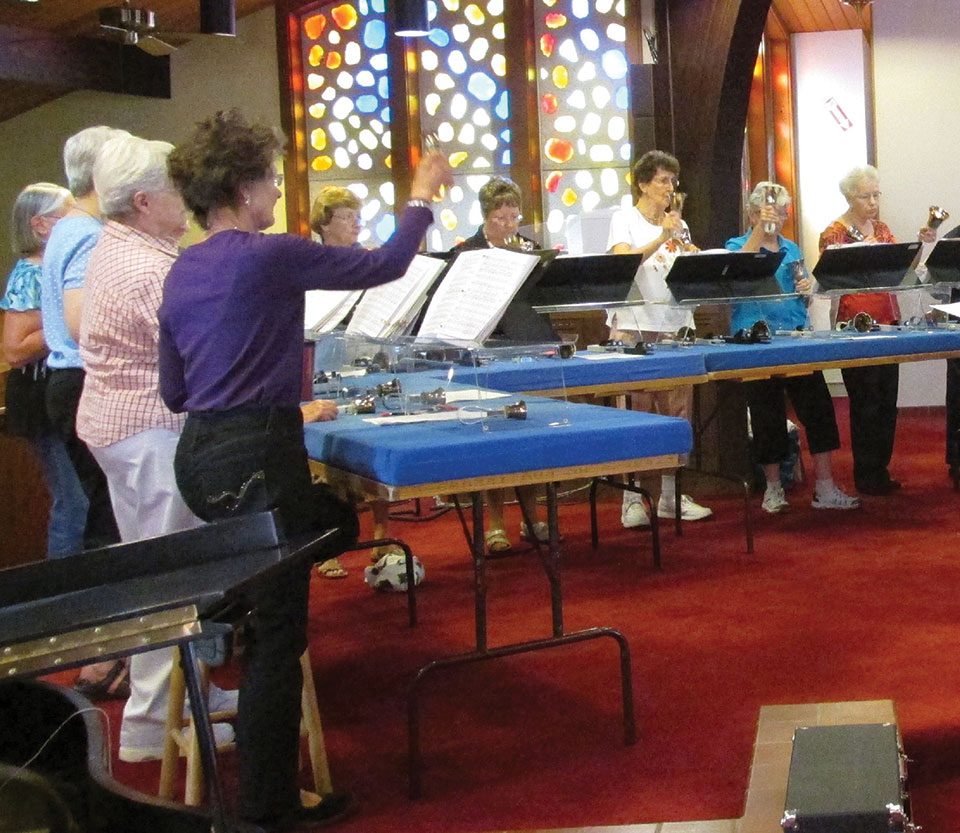 Lyn Munn
You have the opportunity to learn how to ring hand bells and become a member of a local bell choir. The bell choir of the United Church of Christ is looking for four to five new members. Previous bell ringing experience is not required. Maybe you played bells long ago, or maybe you have never played a hand bell but have enjoyed the lovely music and would like to learn. You will be surprised how quickly you can learn the skills and play along with the other members of the bell choir. All skill levels, from novice to expert, are welcome.
Members retire from playing, but volunteers don't come forward to fill the need. Why not? I think people are worried that they won't be able to play well and are afraid to try something new. I want to tell you a little secret. Bells are played by people like me who aren't perfect. We are just doing our best. We hope our performance is as close to perfect as possible, but the joy of making such beautiful music come alive outweighs the occasional missed note.
It doesn't take a music professional to play hand bells. It is a skill that can be learned. You need to follow the notes that correspond to the bells you play, and you need to be able to count to four, sometimes a little higher. Neither of these is difficult. You do need to use your arms, but if you can comb your hair and put dishes away in your cupboard, you qualify. Bells are played by both men and women. The techniques are easy to learn. You have the opportunity to serve your community in this beautiful way. Attend the weekly rehearsals, and you will be ready for a performance.
The UCC Chapel Bell Choir plays four or five Sundays a year for all three services that are held in the Sun Lakes Chapel – the 8:00 a.m. Sun Lakes Lutheran, the 9:30 a.m. Community Church and the 11:15 a.m. UCC service. However, you do not need to be attending any of those churches to be involved in the Chapel Bell Choir. We have members who attend other churches or attend none. We are looking for members who enjoy music and are willing to be a part of us. Our members range in age from their 60s to 80s, and age is not a factor.
We have a new Director, Erica Glenn, who is extremely qualified and also directs the UCC Choir. We are looking forward to a fabulous year under her leadership. Rehearsals will be on Mondays at the Chapel from 11:00 a.m. until 12:15 p.m. beginning on October 16, 2017.
We need several more members so that we can cover the four octaves of bells that we have. This is probably the easiest musical instrument to learn to play, and you will have fun doing it. Please contact me, Lyn Munn, at 480-895-3008 or [email protected] for more information.