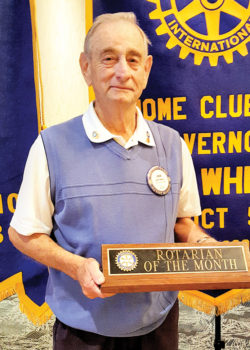 Norm Noble
John McKoy, a retired K-12 Educator and seven-year member of the Sun Lakes Rotary Club, was named November Rotarian of the Month. He was recognized for his leadership as the club's Rotary Foundation Chair and his involvement in those activities and programs that support the Rotary Foundation of Rotary International. John has kept the Rotary Foundation in the forefront of club membership and has provided monthly updates on the many programs and successes around the world that have been undertaken by Rotary clubs with the help of the Foundation. As John reminds us, a dollar given to the Rotary Foundation does good throughout the world.
November is recognized by Rotary International as Rotary Foundation Month. It reminds all Rotarians and Friends of Rotary that it transforms all gifts into projects that change lives, both close to home and around the world, such as poverty, illiteracy, water, health and malnutrition with sustainable solutions that leave a lasting impact. Principal among all these is the eradication of polio worldwide. To date, Rotary has given over $600 million to eliminate this dread disease. The Sun Lakes Rotary Club has donated over $100,000.
John and his wife Sharon have two daughters, six grandchildren and one great-grandchild.
The club offers congratulations to John on thi.ery special and well-deserved recognition.