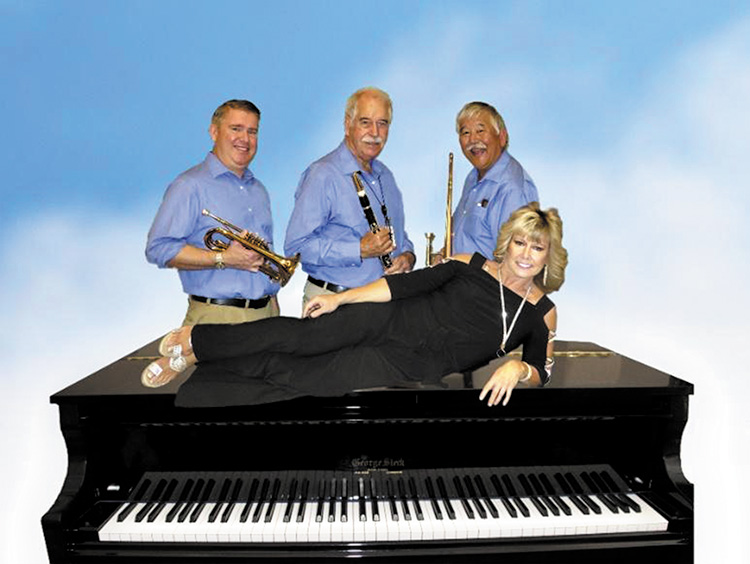 John Yu
On Dec. 8 in the Cottonwood San Tan Ballroom, enjoy Sunday evening with an Arizona and Sun Lakes favorite, Cheryl Thurston and her Memories Swing Band. The band of talented East Valley musicians plays a wonderful upbeat variety of songs to please and will have you dancing the foxtrot, waltz, swing, cha cha, rhumba, classic rock, classic country, an occasional polka, and line dance.
Music/dance from 6 p.m. through 9 p.m. For those who like to include dinner (in the ballroom), come early and order from our special dinner menu beginning from 5 p.m. until 7 p.m. Admission is $12 per person.
About the band: Cheryl Thurston is the leader on keyboard/bass, trumpet, and vocals. She travels regularly, playing in jazz festivals, jazz clubs in New Orleans, Ohio, South Dakota, Jazdagen Cruises on Holland America, churches in Hawaii, and is featured at jazz societies in the United States and Canada. Cheryl is also pianist with the Leisure World Big Band and Sun Valley Big Band. She is an active entertainer/member in the Profession Musicians Association of Phoenix and performs for the Arizona Classic Jazz Society monthly, playing with the Sun City Stompers, Cracker Jack Jazz Band, leading jam sessions and her own Mardi Gras Jazz Band. Alongside Cheryl will be Howard Alden, an amazing "award winning" guitarist who has played around the world. His soulful playing has fascinated music lovers worldwide! Steve Weinberg is a renowned smooth saxophonist playing in many big bands in the Phoenix area, including the Leisure World Big Band, Musicians Union Big Band, Hav' Fun Big Band, and Sun Valley Big Band. Steve Swensen on drums is well known in the Phoenix area as drummer "extraordinaire," playing with Cheryl and Swinging Memories Big Band.
This evening is presented by the Sun Lakes Sunday Dance Club. For any questions or table reservations for groups of 10 or more, call 480-699-7334 or check our website, www.sunlakes-sundaydanceclub.com. SunBird residents and the general public are welcome.