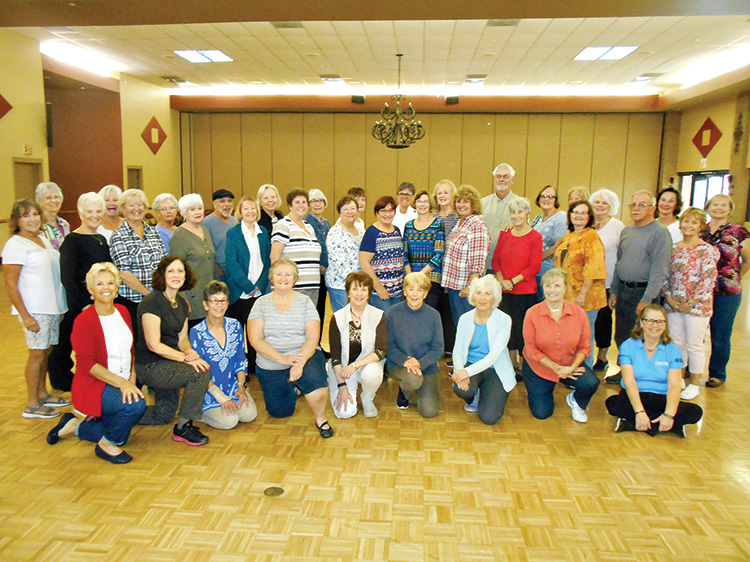 Judee Curtis
What a difference a month makes. January brought back dancers from our September session, returning "snowbirds," plus new dancers. When we get together now, it's quite a group! Fulltime residents dance all year except for July and August, "Returnees" are here January to April/May, and new dancers join us. Some have been with me for four years or longer, and many friendships have developed so "we are family." This was emphasized when I taught Jo Thompson Szymanski's "Rocky Mountain Slide," a double-circle mixer dance. We danced it to the song "We Are Family," and they loved it.
It's a good thing line dancers have choices. Teachers can choose dances they want to teach and those they know their students will like and can learn. I, for one, have never been able to do what I call, "whoopee turns," aka "full, fast 3/4s"! I alter good dances by taking out "turns" which many people our age don't want to do or can't do, and the dance continues in the same direction as written. I hear "Thank You" when I do this. I rewrite step sheets so dancers have the words they hear in class. A Free Steps and Patterns class is given monthly to practice S&Ps, dances, etc. Some have found it really helps them become better dancers, especially when they are new and/or have never danced before. Yes, I do as much as I can to help dancers learn, because the FUN is being able to dance the dances taught. That's when we clap and say, "YAY!"
Registrations is open for Ultra Basics classes on Mondays at 11:30 a.m. for $2 beginning September 7, 2020, in the SunBird ballroom by calling 480-802-0201 after 10 a.m. Please leave a message: "Interested in line dancing, your name, and phone number." I block numbers I don't recognize.
You must be mobile, able to hear and follow directions, plus be willing to learn. "You don't stop dancing because you grow old. You grow old because you stopped dancing!" I'm hanging in there at 80, have my schedule for 2020, and looking forward to teaching you line dances. God bless line dancing!