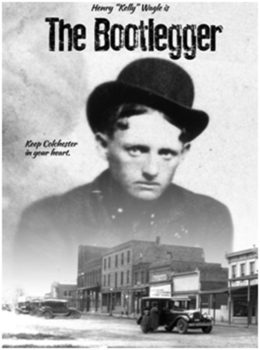 SunBird resident David Riggall brings us the documentary film The Bootlegger at 7:00 p.m., on Tuesday, March 28, in the SunBird Golf Resort Clubhouse ballroom, located on Riggs and Championship Drive (between McQueen and Cooper).
The Bootlegger is the story of Henry "Kelly" Wagle, a hometown gangster turned folk hero in the town of Colchester, Illinois; A nonfiction feature film by Ryan Geoffrey Walker based on the 1998 award-winning book by John E. Hallwas. Although Wagle died in 1929, he remains controversial in Colchester, where alcohol is still illegal to sell. He is legendary for his good deeds and slick driving, but also his violent temper and dark secrets. To this day, Wagle is the central figure in not one, but two unsolved murder cases. Visually rich and tightly paced, The Bootlegger is a one-of-a-kind historical crime thriller.
Seven years in the making, self-funded, family-funded and crowd-funded with no grants or fellowships, The Bootlegger is a triumph of grassroots independent filmmaking.
Please join us for Arizona's first showing of this fine documentary and learn Riggall's connection to The Bootlegger.
There is no admission; however, donations will be accepted after the film to show our appreciation to the filmmaker Ryan Walker. Walker is an Illinois native of McDonough County where Kelly Wagle ran his bootlegging enterprise.