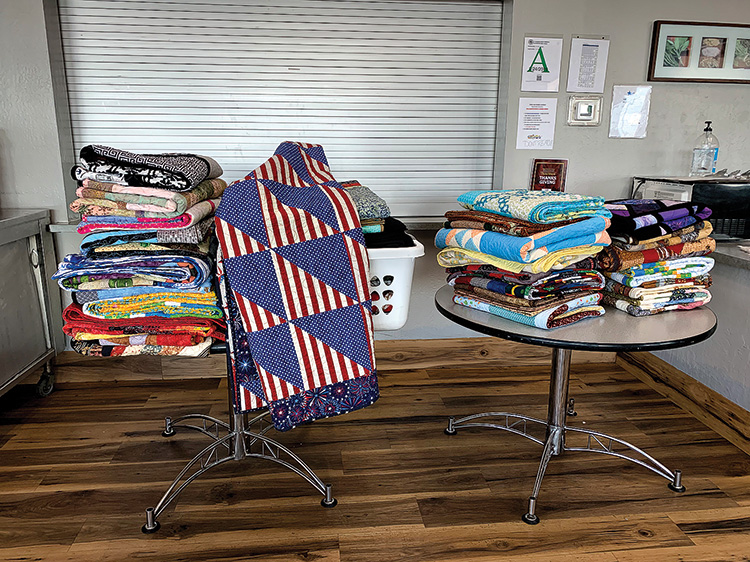 Glenna Reeves
On Nov. 22, Sue Bart, Desert Threads president; Charyl Garman, Arizona Quilters Guild (AQG) president; and Yvonne Cozart, community service coordinator, traveled to U.S. Vets' temporary housing complex in Phoenix. Due to all the donations, talented quilt-making, and huge hearts, 45 quilts were delivered to deserving men and women who served our country. Every Friday, U.S. Vets holds Roll Call to celebrate veterans who have reached milestones, such as permanent housing or gaining employment. U.S. Vets invited Desert Threads to attend one of these celebrations.
The smiles and thank you's said it all! Many veterans stopped by to tell us stories about what quilts mean to them. Their mothers and grandmothers sewed and quilted, and they remember their mothers sitting in front of a sewing machine making clothing and other household items. They remembered going to the Amish to buy quilts. Veterans loved having a warm quilt with a personal touch. All of this was made possible by donations, talented quilt-makers, and huge hearts, as well as our recent grant from CWPV Foundation.
Our membership had a wonderful Christmas party at our December meeting. We had a cookie exchange and traded Christmas quilt blocks, along with many games. Our January meeting will be Wednesday, Jan. 8, at 9:30 a.m. at the SLCC Arts and Crafts Room. Please join us in January and be prepared to ask our expert panel of longarm quilters questions about preparing your quilt.
In February, Sue Bunch will talk about wool felting at our meeting. Be sure to mark your calendar for Feb. 27-29 when the Arizona Quilters Guild 2020 comes to the Mesa Convention Center. The theme will be Desert Stars, and hundreds of quilts will be on display. Desert Threads continues to sell tickets for their Opportunity Quilt which will be presented to one lucky winner after the show.
We will be traveling to Wittenburg for our spring meeting coming up soon. For more information, see azquiltersguild.org or send an email to [email protected]