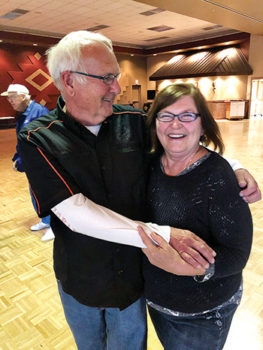 Jackie Cox
About 40 neighbors of Jan Engdahl met on a sunny February day during a block party on the Winged Foot and Colonial golf cart trail. After bringing invites to each door, they borrowed tables from the clubhouse. People enjoyed it so much that they plan others in March and November.
Another block party was hosted on Coral Gable in March by Michelle and Steve Seel, new homeowners a year ago. Steve and Jan Engdahl are members of the HOA Marketing Committee which is encouraging each new neighborhood to host socials to meet their neighbors.
Another way to meet neighbors was the annual Championship Drive Block party, held March 3 on the SunBird Patio, as they don't have a street that can be blocked.
Ron and Jeanie Domas also hosted an afternoon party in the ballroom for the whole community on February 21. Sandra Lee and the Velvets entertained at both events. All enjoyed homecooked potluck with costs covered by a 50/50.
Join the fun and host a social!