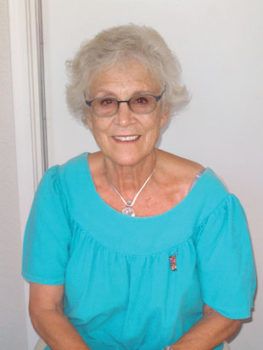 Bob Neuman
This interesting lady is, in a way, new to SunBird and Arizona. At first glance, one will notice several things. She is very bright and is a people person who gets great satisfaction in helping others, a trait she derived by caring for her brothers and sisters. She has led a life that few people have neither the opportunity nor ability to have done what this nice lady has accomplished.
Diane Reilly moved to SunBird recently. Of the many places she has lived, she arrived from San Marcos, California. "Once I lived on a boat. I love the ocean and the seals that actually came onto my boat. I will miss that," she remarked. She does have several relatives living here.
Diane is no stranger to Arizona. For a while in the '60s, she came to care for her parents.
She grew up in New York in the midst of seven brothers and sisters. Her father was in sales, and her mother had a degree in business. "We would visit Canada often as a family." She commented, "I especially loved seeing Niagara Falls frozen in the winter. It was beautiful."
"While in seventh grade, I won the spelling for our county. I never bothered to study," she recalled.
After graduating from high school, Diane attended college for three years before marriage. After two children, she obtained the fourth year for a BA degree. Another four years brought her RN degree, which she used to help many people. Being a certified ER and critical care nurse was her work for many years.
She became a nurse/missionary and flew to numerous countries, mainly to assist those who battled the polio disease. This took her to many European countries, the Far East, Africa and many other locations. One favorite place was China; however, the most difficult places to work were Korea and China. There were many others she found favorable, including Italy and San Juan.
In addition to those travels, she accompanied her husband Pete who was sent many places by Boeing Aircraft. Both Diane and Pete loved the ocean and enjoyed kayak boating. San Diego was high on the list of their favorite cities.
Diane has three surviving children and nine grandchildren. Unfortunately, her husband, who served in World War II, passed away in 2016.
She intends to continue walking for health. She is also an artist and has several paintings displayed in her home.
In 1927, a popular song was written, sung and played often. It begins, "I'm in Heaven when I see you smile. Smile for me, my Diane." Well, Mrs. Reilly, you can smile for me any time you want.