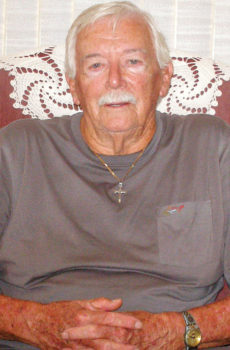 Bob Neuman
Gene Tress remarked, "I fell in love with Arizona." This is not idle chit chat. He has lived here the majority of his life and is definite when it comes to knowing his own mind. He resided at many places and did many things.
He was born in Pennsylvania among the Amish on August 2, 1933. Completing high school, he began what would last the next 20 years … a United Air Force career.
When Gene joined up in 1951, World War II had been over only six years, and another had begun on June 25, 1950, in a distant place in the Sea of Japan. North Korea had invaded South Korea. It ended in a stalemate on July 27, 1953.
Gene had been sent to South Korea on July 4,1953. He reasoned he had a hand in the end of hostilities with his arrival. "They heard I was coming," he proclaimed. He was a sergeant in supply. He saw to it that things needed by the troops were provided and cared for th.ehicles.
The United States was involved in another war beginning on November 1, 1955, to April 3, 1975. It was fought between North Vietnam and South Vietnam, also in Cambodia and Laos. The war ended with an armistice. Gene believes, "We could have won both wars (Korea and Vietnam) if not for Washington interference."
When Williams Air Force Base was active in Arizona, numerous pilots trained there. This was an assignment in 1954 that Gene liked, and it introduced him to Arizona. Later he took classes how to speak and present to become a recruiter. Nine years in the Chicago area followed the training. According to Gene, it is not a welcome job that military people relished, but it did present a permanent place to live for a while.
In 1972, he retired after 20 years with the USAF as a Master Sergeant. It had been good for him in all ways. From here, he had several jobs, like managing and working with concrete. He once owned an auto repair place, employing many workers and having the latest equipment. He even drove a Chandler school bus for five years.
He lived in places like Scottsdale, Hawaii, our neighbor Springfield complex and Flagstaff. In 1987, he married Delores and, together, they traveled to places such as Bahamas, Bermuda and the river cruises in Germany.
Tragically, in 2014, Delores was diagnosed with pancreatic cancer and succumbed a short time thereafter. Gene moved to SunBird.
Other things you don't know: Gene does not smoke or drink, he is a devout Christian and attends SunBird Community Church, he played basketball and baseball on military teams, he loves the USA, he once presented the Most Valuable Player Award at the Chicago Bears game at Soldier Field, he plays golf, poker and pool and walks daily.
"For my legacy, I want to be remembered as a patriot and a Christian." Indeed, you will, Gene, and much more.